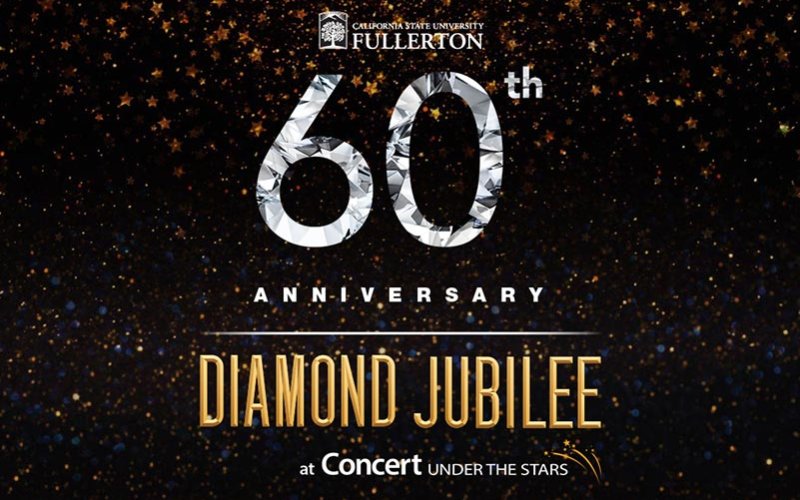 Fireworks will again light up the sky, this time in celebration of Cal State Fullerton's 60th anniversary, at this year's Concert Under the Stars. Tipping its hat to the University's Diamond Jubilee, the Saturday, Sept. 23 event will revisit musical trends from past decades.
"Concert Under the Stars is a great opportunity for students to engage with our alumni," says Dale Merrill, dean of the College of the Arts. "This year we're highlighting events that have taken place at Cal State Fullerton, and across our country, through music and imagery." 
This year's production at the Cal State Fullerton Intramural Field (north of Titan Gym) also allows for a wider breadth of art students to participate, he adds. Besides musicians and singers from the School of Music, including choirs and the jazz band, students specializing in musical theater, dance and technical theater will join in, as will art students assisting with video and imagery.
The College of the Arts Jazz Ensemble, led by professors of music Bill Cunliffe and Charles Tumlinson, will kick off the concert with an array of classics and modern tunes. College of the Arts alumni Tim Alexander, Erin McNally, Lauren Nearhoff, Ryan Nearhoff, Chris Chatman and Melanie Taylor are joining in the festivities with hits such as "Another Day of Sun," "With a Little Help From My Friends" and "Don't Stop the Music."
Proceeds from the concert fund scholarships and student programs.
The program also includes a tribute to Cal State Fullerton's presidents as well as the concert's famous fireworks finale, sponsored by the Anaheim Ducks. 
The concert begins at 7:30 p.m.; gates open at 5 p.m. Free lawn seating is still available. Reservations are requested and can be made online. Guests are encouraged to bring a picnic to share with friends and family, or purchase dinner from a variety of food trucks. No outside alcoholic beverages are permitted on campus.
Free general parking is located in Lots A and G. Parking for the disabled is available in Lot A and the State College Parking Structure. A map is available online.