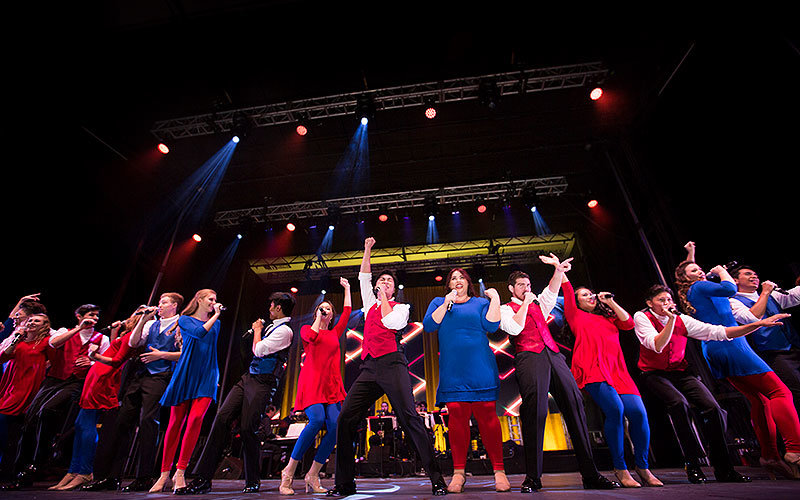 About 4,000 friends and supporters of Cal State Fullerton gathered Saturday night for the University's 60th Anniversary Diamond Jubilee at Concert Under the Stars, raising $1.2 million for student scholarships and programs.
Guests enjoyed an evening of spirited music and dance presented by CSUF students — and talented alums, including Tim Alexander '15, '17, Chris Chatman '09, Erin McNally '02, Ryan Nearhoff '07, Lauren Stevens '07, and Melanie Taylor '87.
The concert's diverse lineup included such tunes as "Aquarius/Let the Sunshine In," "With a Little Help From my Friends," "American Pie," "Good Vibrations," "You Should be Dancing" and "Y.M.C.A." The evening ended with a fireworks extravaganza.
Among the crowd-pleasers was the appearance of CSUF mascot, Tuffy Titan, who took to the stage for a specially written version of "Tuffy in the Sky with Diamonds," followed by "Tuffy, Tuffy, you're so fine. I'm so glad that you are mine. Hey Tuffy!"
Tim Alexander, who was a Guardian Scholar (a program designed to provide assistance to former foster youth), stepped up to the mic to describe the support he received while at CSUF.
"They say we make a living by what we get, but we make a life by what we give," he said. "When you invest in something. When you truly believe in someone, it can change their future. And I want to give back to the University that gave so much to me. Thank you."
On a more somber note, toward the end of the concert, former CSUF President Milton A. Gordon, who died earlier this year, was honored for his years of service and dedication to the University. McNally addressed the crowd, speaking of Gordon's love for Cal State Fullerton and its alumni, and the fond memories that she and many others share of the former president.
"So there would be no more fitting song for this incredible man that this next one," she said, then delivered a moving rendition of John Lennon's "Imagine" with the Concert Show Choir.
CSUF President Mildred García delighted the crowd when she joined cast members onstage for the closing number, "Ain't No Stopping Us Now." García thanked all the faculty, staff, students and friends of the University, with a special nod to the cast and crew who put on this year's Diamond Jubilee event.
"I want to thank all of you who have helped contribute to the success of Cal State Fullerton over its 60 years. Today, we now serve more than 40,000 students," she said. "Our first graduating class consisted of five graduates. At commencement this past spring, that number hit almost 11,000. I am honored and privileged to stand on the shoulders of giants, such as former presidents Jewel Plummer Cobb and Milton Gordon, who was a friend and mentor to me. Thank you for all you have contributed to this University over the years, and we hope that you will keep working alongside us. We always say 'Titans Reach Higher,' and all of you help us reach higher."