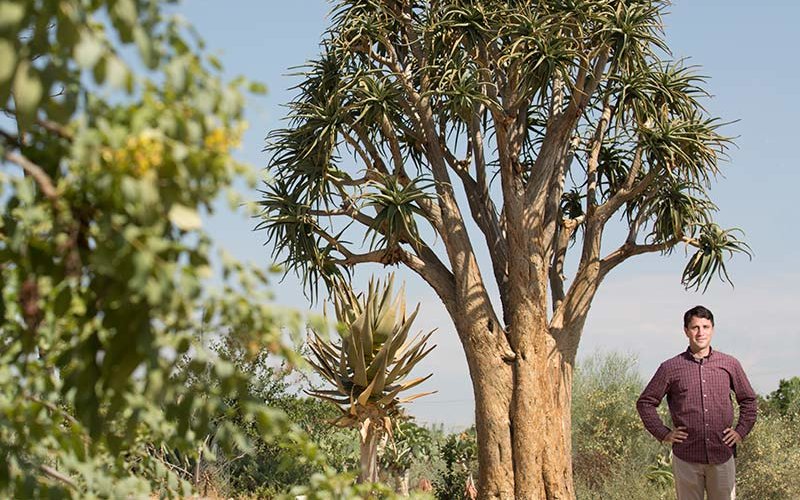 Gregory Pongetti worries about a pest called the Polyphagous Shot Hole Borer, which has been "wreaking havoc on trees all over Southern California" in recent years. Some of the Fullerton Arboretum's trees have fallen victim to the pest, as well as to heat waves and periods of drought.
From gardener to living collections curator, Pongetti has spent the last decade caring for some 4,000 plants in the arboretum. But before he discovered a passion for botany, he was a Cal State Fullerton student.
"I see students at the arboretum every semester, collecting pond water samples to examine different types of algae and unicellular organisms," said Pongetti '06 (B.S. biological science). "Every time I see them, I think back to my time as a student."
Initially undeclared, Pongetti visited the arboretum with his taxonomy class and examined the garden's diverse collection of plants. In an ornithology class, he had the opportunity to scan the skies and trees for birds.
Hands-on learning experiences at the arboretum, as well as in the University's Biology Greenhouse Complex, drove Pongetti toward botany. "I took every plant class that I could fit into my schedule," he said.
Today, Pongetti is responsible for acquiring different types of plants, investigating and treating unhealthy plants, and caring for the garden and nursery. He oversees four full-time gardeners and the arboretum's annual plant sales, for which he and a team of volunteers grow thousands of plants from seed.
His advice for students: "Learn as much as possible, pursue internships and research opportunities with professors. Be a sponge and soak it all up."
Another alumnus, Miguel Macias '10, '17 (B.S. biological science, M.S. biology), serves as the arboretum's education program manager.
Echoing Pongetti's advice, Macias said, "I strongly recommend students to get acquainted with the arboretum. It is the perfect place to practice your field botany skills, watch a well-drilling session or simply use plants for your research projects."
Macias himself frequented the "living laboratory" as a biology major and a graduate student, segueing into a career of developing programs to teach youth and the community about plant biology.
The botanical garden — a partnership between the City of Fullerton, Cal State Fullerton and the Friends of the Fullerton Arboretum — offers hundreds of educational classes throughout the year.
"In my 'Basics of Composting' and 'Composting With Worms' classes, I teach the differences between hot and cold (or passive) composting, how to mix things into a compost pile, and the fastest process for that mixture to decompose and turn into natural fertilizer," he said.
Many local cities partner with the arboretum to offer the composting classes for free, hoping residents learn to reduce the amount of trash they send to landfills.
"About 33 to 38 percent of the trash you produce at home can be recycled by composting kitchen scraps or yard waste," said Macias.
"I also like to remind people that if you grow your own fruits and vegetables, and you use the fertilizer produced from composting, you know exactly what's going into your food."
To learn more about upcoming classes, visit the Fullerton Arboretum website.