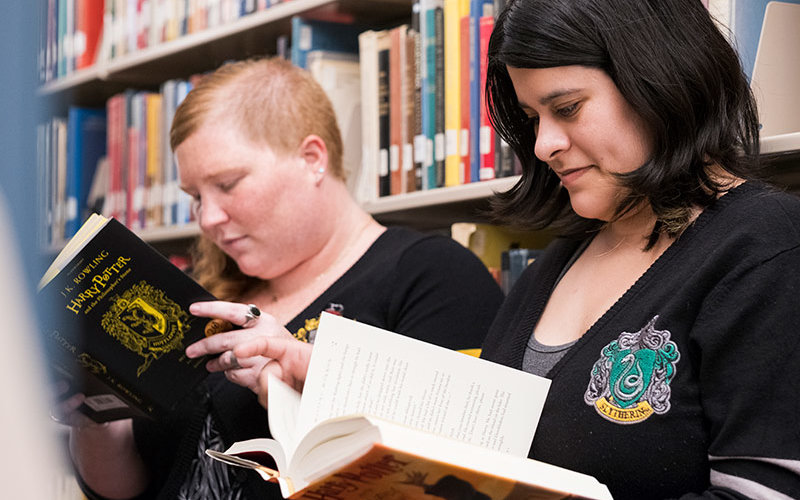 With red hair, freckles and a determination to learn, it's no wonder Brittany Cochran landed in the same house as the famous Weasley clan on the first day of her Harry Potter class at Cal State Fullerton.
"I personally would have picked Hufflepuff," says the English major and aspiring writer. "But I was not unhappy with being placed in the House of Gryffindor."
The Sorting Ceremony, a nod to J.K. Rowling's Hogwarts School of Witchcraft and Wizardry, is a first-day-of-school ritual for an upper-division literature class called "Trends and Movements in English and Comparative Studies."
The class, which fills up quickly according to its instructor Erin Hollis, will be offered in spring 2018 for the 10th time. "You walk in on the first day, and there's an energy," says the associate professor of English, comparative literature and linguistics. "It's one of my favorite classes to teach."
Though the class may sound like an easy A, students should be prepared for three major projects, a weekly journal, a house cup competition and of course, reading (or rereading) all seven Harry Potter books.
"A lot of people take the class just for fun, and then they realize it's a lot of work," says Hollis. She notes that the class typically comprises 50 percent English majors and 50 percent other majors, including students who are super fans and ones who have never read the books.
"Every time I teach the class, I have a few students who haven't read the series and they're usually some of the best responders because it's coming to them fresh," she says.
Many students, like Cochran, are surprised to discover that the class covers such a variety of topics, including the literary influences on Harry Potter, the mass marketing of the series, fan culture, scientific time travel theories, sports culture, religious reaction, popular culture reaction, feminism, ethics and sexuality.
"I have always wanted to write novels of my own, and I know that all I have learned from my time as a student at Cal State Fullerton will help me immensely in achieving that goal," says Cochran. "Just as J.K. Rowling studied the novels of her youth for context and inspiration, I am being exposed to so many literary themes, symbols and devices that I hope to use in my future."
Hollis discovered the series while a graduate student at Texas A&M University, where she earned her master's degree and doctorate in English.
"When you're a grad student, sometimes you stop liking reading and you get a little burnt out," she shares. "Harry Potter was something that really helped me when I was struggling."
Drawn to characters like Hermione and Dumbledore, who value learning and love, Hollis also enjoys that the series challenges people to think about how to treat each other well and how to resist when "there's an evil being trying to take over and dehumanize people."
"I tell my students that they have to approach Harry Potter with the same scholarly lens they would use with a book by James Joyce, and I tell my students who read James Joyce that they have to approach his books like they would approach Harry Potter — like they're fans."
If there is one disappointment Hollis has about the series, it is: There is no literature class at Hogwarts.