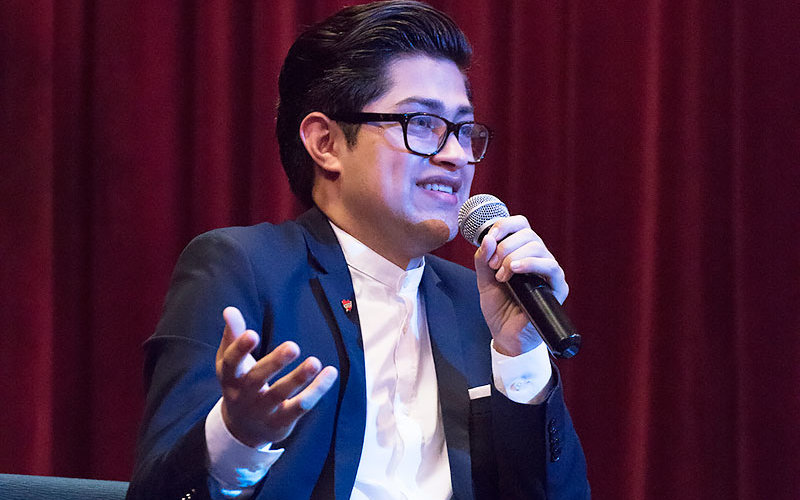 Rubén Carbajal '15 (B.F.A. theatre arts-musical theatre) recently returned to his alma mater to talk about his education, acting career and his dual roles as John Laurens and Philip Hamilton in the national touring company of "Hamilton," currently playing at the Pantages Theatre in Hollywood.
"When I see people waiting outside the stage door to meet us, I still can't believe it," he told students at Cal State Fullerton's Titan Theatre. "It's such a wonderful feeling to see so many people inspired by a show that I get to be a part of."
Carbajal started his career at age 5, performing in commercials and various film projects throughout his childhood.
"I always loved sports," he told the audience. "But when I started high school and I was only 5'2" and weighed 100 pounds, I decided maybe I should consider something safer." That something turned out to be theater. He auditioned for CSUF's musical theater program and was accepted.
While at CSUF, Carbajal appeared in numerous productions including "Spring Awakening," "Kiss Me, Kate," "Legally Blonde" and "Illyria." Outside of school, he landed a role in a local production of "In the Heights," Lin-Manuel Miranda's predecessor to "Hamilton."
"As I watched that show, for the first time, I could really see myself on stage. The characters looked like me; they spoke like me. My goal was to be a part of it."
He waited with his friend at the stage door ("I didn't even know you could do that!"). When he met Miranda, he said, he felt like he was meeting someone who would change his life.
Carbajal credits much of his success to his education.
"The B.F.A. program was the most challenging," he said. "But I was determined to make the most of my opportunities. I knew I needed to keep up with my general education classes — or what I call 'normal people' classes — and then go out and audition and perform."
Upon graduation in 2015, Carbajal moved back to his parents' home in Los Angeles for a year.
"I worked 40 hours a week for my dad at his wood-finishing products business but at least my schedule was flexible so I could go on auditions. In fact, one month, I don't think I went to work at all because of all the auditions."
Then he got a call to audition in New York for the national touring company of "Hamilton" that would open in Chicago. "I was nervous and excited," he recalled. "I made it through the first two auditions and then got called back for a third." At that final audition, Miranda was there, too.
But the Chicago company said no. "I felt defeated that I didn't get the part, but I felt good about the process," he said. A few months later, a national touring company was being formed, and Carbajal was called back again.
"They flew me out to New York and this time, they gave me tickets to see 'Hamilton,'" he said. "I had never seen the actual play, although I knew the music by heart." However, he didn't feel that he'd done as well in auditions the second time.
When Carbajal landed at LAX, he had multiple calls from his agent, who wanted him to try out for a voiceover for a McDonald's campaign in Spanish. The only problem was it had to be done that day. Carbajal raced home, went over some lines with his mother, and hurried to his agent's office. While there, a call came in and one of his three agents announced, "Bad news." His heart sank.
"The voiceover got canceled," the agent announced. And then the agent announced, "But I also have good news. 'Hamilton' — you got it!"
"I cried then," he said.
After months of preparation and rehearsals in New York, the cast finally arrived in San Francisco.
"The West Coast premiere was unlike anything I'd ever seen," he said. "There were 2,200 people in the audience. I was so nervous I messed up my first lines … but I made them rhyme. I don't think anyone noticed."
Carbajal says one of the greatest lessons he learned as a student at CSUF was to take advantage of challenges and pull from all those different experiences. And if he feels tired or unmotivated, he only needs to think of his favorite "Hamilton" song, "My Shot," and he immediately feels better. "I am not throwing away my shot."