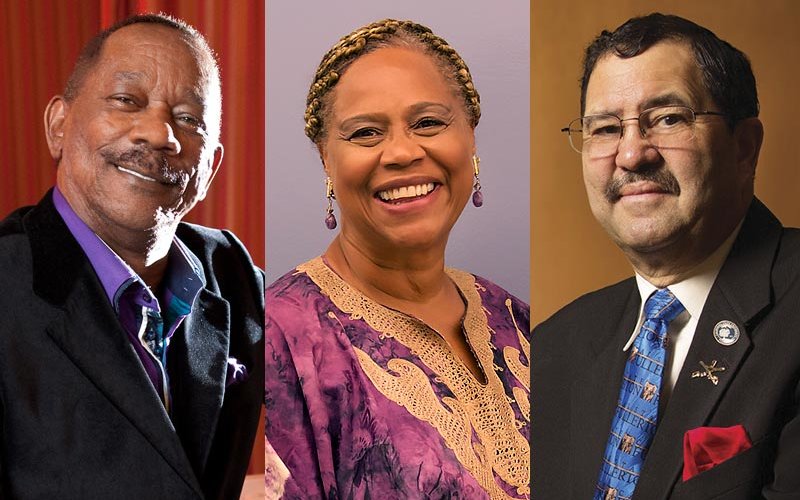 Looking at "African American Civic Engagement" throughout the decades, Cal State Fullerton's African American Studies Department presents a new exhibit on the contributions of Buffalo Soldiers during the 1860s and the University's alumni from a century later.
An opening reception will be held 2-4 p.m. Saturday, Oct. 21, in the Pollak Library's Rotary Club of Fullerton, Room 130. The Oct. 22-Dec. 31 exhibit, in the library's Salz-Pollak Atrium Gallery, coincides with a fundraising initiative to support African American Studies faculty and students.
The exhibit features memorabilia of the Buffalo Soldiers — African American soldiers of the 9th and 10th Calvary Regiment of the United States Army — such as a uniform, Winchester rifle, bicycle, photos and sculptures of notable members. A collection of medals, plaques, books, documentaries and music recordings from successful Titan alumni of the 1960s-1970s also will be on display, with additional QR codes for audio/visual components.
In addition, the following alumni will be highlighted in the exhibit:
Jacques Bordeaux '76 (B.A. sociology), founding director of the California Science Center's Science Center School Project
Valerie Bordeaux '76 (B.A. communications), former director of university outreach at Cal State Long Beach
Stan Breckenridge '75 (B.A. music), musician, Fulbright scholar, co-chair and lecturer in African American studies at Cal State Fullerton
Gregory Bunch '79 (B.A. criminal justice), media, entertainment and broadcast solutions sales leader
Edgar Clark, former Titan basketball player
Carver Cossey, singer, conductor and educator
Leonard Guinn, former Titan basketball player
Freddie Maxie '79 (B.A. dance), former "Soul Train" dancer
Bobby McDonald '75 (B.S. physical education), president and executive director of the Black Chamber of Commerce of Orange County
Mark Saunders '03 (B.A. ethnic studies-African American studies), program development specialist for The Walt Disney Co.
James H. Shelby '78 (B.A. ethnic studies-African American studies), gospel artist
Jubilant Sykes '79 (B.M. performance), Grammy-nominated musical artist
"I want people to know the achievements and accomplishments of African American students once they left Cal State Fullerton," said Breckenridge. "If we look at the social climate right now, and the civil unrest that's going on in this great nation, we need to focus on those things that are positive. We need to help encourage African American students to want to pursue higher education."
Alumna Valerie Bordeaux credits Cal State Fullerton for providing educational experiences both in and out of the classroom that empowered her to succeed in her career.
"For me, this amazing exhibit captures vivid snapshots in time of a multifaceted history and rich legacy of the CSUF African American experience," she said. "I am honored and thrilled, along with my husband, to be a part of it."
A descendent of the Buffalo Soldiers, Bobby McDonald says he is "excited and overjoyed" to be a part of the exhibit.
"Reflecting on my involvement with Cal State Fullerton over the years, the value of my education has grown exponentially because the school and its leadership have been on a steady course for academic excellence, cultural affirmation and business empowerment," said McDonald. "I am proud to be a strong advocate for Cal State Fullerton."
Three related lectures, all in Room 130 of the Pollak Library, will take place this fall: 
Nov. 6, 10:30 a.m. — "A Radical Experiment: African Americans in Higher Education During Reconstruction" presented by Tyler Parry, associate professor of African American studies
Nov. 14, 1 p.m. — "Researching African American Family History" presented by Colleen Greene, marketing librarian
Nov. 30, 1 p.m. — "Music Among African Americans of the 1860s-70s and 1960s-70s" presented by Stan Breckenridge, co-chair and lecturer in African American studies
For more information, contact the African American Studies Department at 657-278-8591 or sbreckenridge@fullerton.edu.