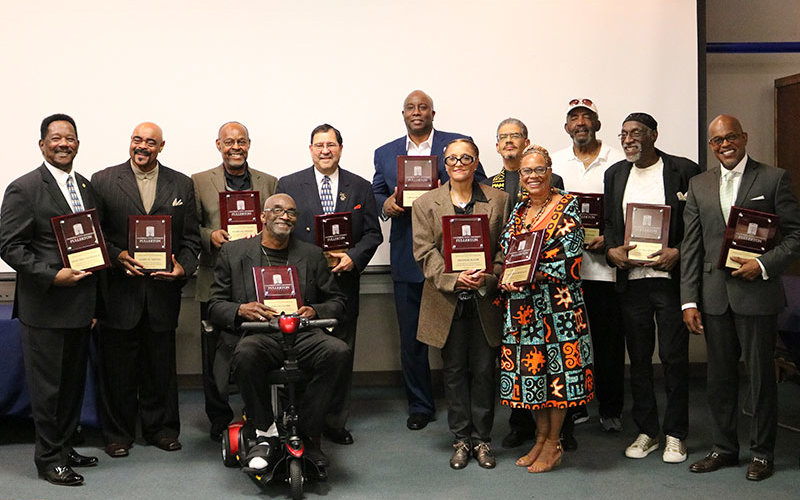 Cal State Fullerton's Department of African American Studies honored 12 distinguished alumni — and announced a fundraising initiative to create an endowment fund to support its faculty and students — at an Oct. 21 reception at the Pollak Library.
Alumni honorees included: Jacques and Valerie Bordeaux, Stan Breckenridge, Gregory Bunch, Edgar Clark, Carver Cossey, Leonard Guinn, Freddie Maxie, Bobby McDonald, Mark Saunders, James H. Shelby and Jubilant Sykes.
The African American Studies Vision for the Future Fund will provide for student scholarships and opportunities to gain hands-on learning experiences, as well as support faculty research and academic conferences.
"We are committed to providing academic and real-world opportunities that prepare students to become leaders who will make a difference in the world," said Breckenridge, co-chair and lecturer in African American studies. "In addition, these resources will allow us to offer teaching positions to highly sought after academics with cutting-edge research and make them a part of the CSUF family."
The reception also marked the opening of a new library exhibit focusing on "African American Civic Engagement" throughout the decades. On view in the Salz-Pollak Atrium Gallery through Dec. 31, the exhibit highlights the contributions of Buffalo Soldiers during the 1860s and the University's alumni from a century later.
To learn more about the exhibit or endowment fund, contact Stan Breckenridge at 657-278-8591 or sbreckenridge@fullerton.edu.