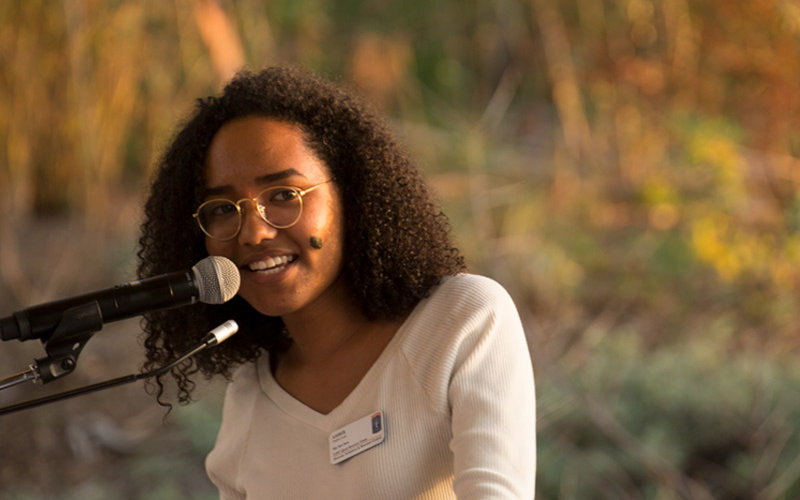 A summer spent delving into single nucleotide polymorphisms became an incredible learning experience into the subject of autism spectrum disorder and the field of big data for biological science major Amber Cornelious, who recently presented the results of her research at the California Big Data to Knowledge (BD2K) conference in Huntington Beach.
"I presented my results to a multitude of professionals and was offered advice on the next steps I should take with my project," remembered Cornelious, one of eight CSUF students who took part in the conference. "Taking part in this meeting offered me a lot of insight on how to navigate future meetings like this."
Such hands-on experience came about because of a five-year National Institutes of Health grant awarded to Archana J. McEligot, professor of health science, who won the award for "Big Data Discovery and Diversity Through Research Education Advancement and Partnerships," an effort to expand students' exposure and knowledge of big data through research, education and collaboration.
Through the program, students are learning how to use large amounts of data — i.e. big data — as well as how to make sense of it, process it and archive it, said the educator. While the grant is for the study of big data in the sciences — research into the nervous system; genomes, or the genetic material within an organism; and epigenetics, heritable traits that can't be found in the DNA sequence — such skills have applications in fields ranging from business and computer science to biotechnology.
An example of big data is in neuroimaging, McEligot explained. "One scan can provide thousands of data points in the brain," providing a wide range of study.
Twelve students from the colleges of Health and Human Development and Natural Sciences and Mathematics are participating in the two-year program. Helping enrich the experience are faculty mentors and summer research experiences, like that experienced by Cornelious, who worked at the USC Mark and Mary Stevens Neuroimaging and Informatics Institute.
Beyond the scholars conducting research through the grant, big data concepts are being introduced into several existing courses at CSUF to give more students the opportunity to explore, analyze and understand vast amounts of data. Students also are learning how to present such data and their results.
Other CSUF students who attended last month's conference to deliver papers on research ranging from public health concerns like depression and dyslexia, as well as nutrition and caffeine use and their effects on brain health:
Health science majors Galilea Patricio, Emma Navajas and Jennifer Que
Communicative disorders major Shaina Sta. Cruz
Stephen Gonzalez, who is studying psychology
Biological science majors Jonathon Chacon and Silvia Orozco
"Being a part of the BD2K meeting allowed me to connect with researchers from many other universities and hearing about the current work being done excites me about my future in big data science," said Orozco.
With such training, access to data and tools, and experiences, "these students have increased their career and graduate school opportunities in the data science related field," noted McEligot.
Grant funding is expected to total $1 million in support of the multidisciplinary program that McEligot directs in collaboration with Sam Behseta, professor of mathematics, and Math P. Cuajungco, associate professor of biological science.
"Over the life of the grant, we hope to reach more than 1,200 students, opening their minds to important career choices," said McEligot.