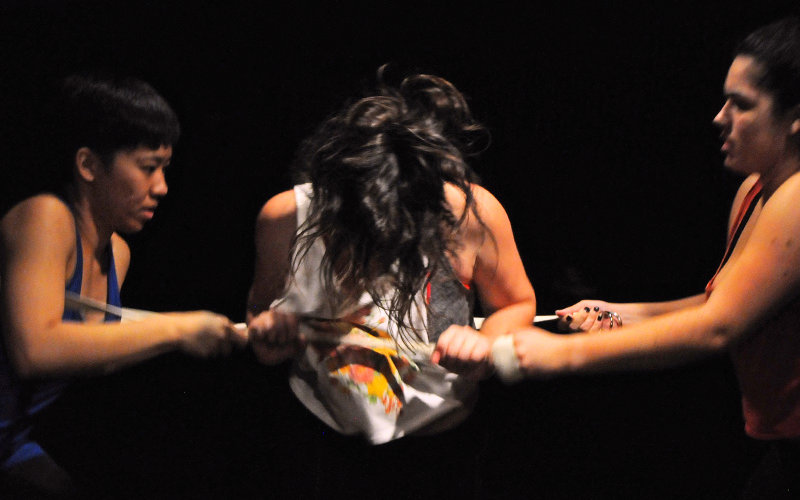 Mixing it up is one of the rules of devised theatre. In Anne James' "Advanced Devised Performance" class, students go from being writers to directors, producers to choreographers and, of course, performers.
The Department of Theatre and Dance's Voice/Movement program initiated devised performance courses in fall 2016, in direct response to changing workplace needs and aesthetics in theater, explains the associate professor of theatre and dance.
"Devised theatre involves creating new material or adapting previously produced material and staging it in a physical, athletic, non-realistic, visually dynamic way," says James. "It frequently involves soundscapes or live music, projections or video footage, in addition to text."
Theatre arts senior Nancy Vang found the idea of physical theater intriguing. "I love the fact that everything is student-created," she says. "We write the script, we create the movements together as a collaborative company, and we get to showcase the message we want."
Aaron Woodward '17 (B.A. theatre arts-applied studies), came back as guest artist and assistant movement director in the class. "Physical theater is bringing new elements that we have not seen before, and that will trickle down to the rest of the department," he says.
Additional instruction is coming "straight from the horse's mouth," adds Woodward. The U.K.-based physical theater company Frantic Assembly chose Cal State Fullerton's Department of Theatre and Dance as one of a handful of programs to visit this year. Two of the company's movement specialists, Jessica Williams and Krista Vuori, are holding a three-day workshop for Advanced Devised Performance students Oct. 27-29. Participants will create a 45-minute original piece that will debut at 5 p.m. Sunday, Oct. 29, in the McGarvey Dance Studio (Room 272 of the Clayes Performing Arts Center).
In September, James's class was able to see the Tony Award-winning "The Curious Incident of the Dog in the Night-Time" at the Segerstrom Center for the Arts, featuring direction by Frantic Assembly's founders Scott Graham and Steven Hogget. Williams was one of the national tour's choreographers.
"We've seen the caliber of their work and all that is possible in this art form," says Liz Cartojano, also a theatre arts senior.
Frantic Assembly's visit is made possible thanks to a $20,000 grant from Bank of America, which, for the fifth year, is investing in students' financial education. The techniques learned from Frantic Assembly will be applied to the development and execution of an original performance aimed at teaching high school students about responsible money practices.
Cartojano will direct the financial literacy piece, which is set to debut in January. Woodward will be the movement director, while theatre arts major Matthew Katterhagen will write the play.
The show will tell the story of a group of students — some practical with money, others more generous — putting together a production. "It's a clash between two mindsets, told in a comedic way," says Cartojano.
A transfer student, Cartojano says her training and education in dance and theater are "coming into one, which is something I really love about physical theater.
"We're able to create everything. It's like a dance piece in a way, but putting acting elements into it," she explains.
"Our students will have the opportunity to collaborate with master teachers from a world-renowned theater company — not just sitting in an audience and observing, but literally interacting and working directly with them," states James. "Then they will almost immediately apply those techniques into the development of another original piece that will eventually go on to represent CSUF in our community. From a learning perspective, I couldn't ask for a better combination."