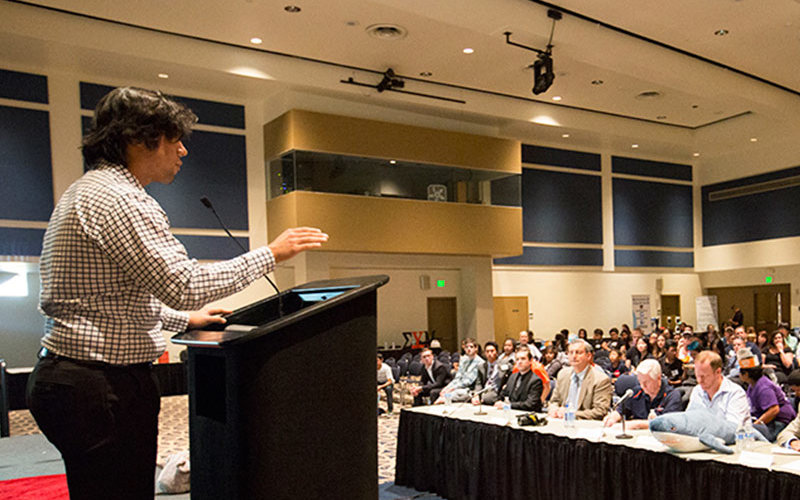 If you had only 60 seconds to pitch your startup idea, turn heads and hook investors, would you take the challenge?
Business owners take the challenge often, in elevators, on golf courses and on flights. Now, middle school and high school curriculum includes business education and kids have joined college students in the quest to master the pitch for their real-world business plan.
Hundreds of students are expected to take the challenge at 1 p.m. Saturday, Oct. 21, at the Titan Fast Pitch, hosted by Cal State Fullerton's centers for Entrepreneurship and Economic Education, and by the National StartUp League.
The next generation of entrepreneurs — students from universities, high schools and middle schools — will gather at the Titan Student Union for the three-hour event.  
Participation has doubled and nearly tripled in its five years, especially after the competition was opened up to high school and middle school contestants, says John Bradley Jackson, director of the Center for Entrepreneurship.
"As we meet with teachers we have a better understanding of how business education, specifically entrepreneurship, and the ability to pitch your idea have become mainstream in the middle school and high school classroom," says Jackson.
"It takes courage to be an entrepreneur," Jackson says. "Entrepreneurship begins with storytelling. You let others know what your idea is and then you listen to their feedback."
It's that impactful experience and the feedback that helps a student become an entrepreneur and chart a course, he says.
Titan Fast Pitch offers two competitive rounds for students to share their one-minute, prop-free pitches in rapid-fire presentations to a panel of judges. In the second stage, a lightning round, judges ask questions about competitors, customer relations, target marketing, advantages and barriers.
Scholarships of $250 to $1,500 are offered to university-level winners, and middle school- and high school-level winners can earn $100 to $400 scholarships.
The lightning round judges include Dan Black, '67 (B.S. physics) who has provided many transformational gifts and scholarships to the College of Natural Sciences and Mathematics and for whom the University's science laboratory center is named; Michael Sawitz, CEO of the business incubator FastStart.studio in Irvine; Bill Taormina, co-founder of Anaheim Disposal and CVT Recycling Center and founder of Anaheim Community Foundation; My-Ngoc Allred, a district manager at Wells Fargo; David Morris, executive vice president and chief financial officer at Royal Business Bank; and Karl Freels, a member of the Dan Black Family Trust.
Titan Fast Pitch sponsors include the Black Family Foundation of CSUF alumnus and entrepreneur Dan Black, Wells Fargo Bank, Royal Business Bank, FastStart.studio, Sigma Upsilon Mu, the Cal State Fullerton Entrepreneur Society, CSUF Associate Professor of Management Atul Teckchandani, France Helfer, Vas Arora and the Student Innovation Collective.
Registration, rules and judges' biographies are posted here.