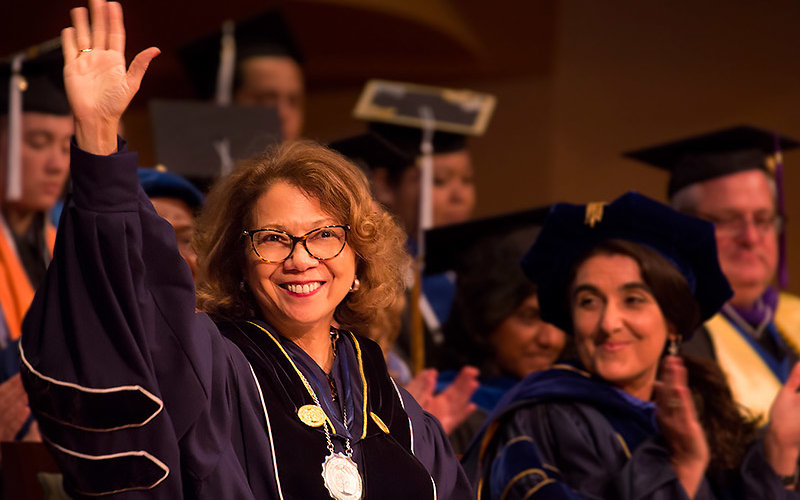 Cal State Fullerton President Mildred García will be leaving the University she has led for almost six years to assume the presidency of the American Association of State Colleges and Universities (AASCU), effective Jan. 22, 2018.
Since her arrival on campus June 1, 2012, García has achieved an impressive track record of achievements — all focused on student success and broadening and enhancing already excellent academic programs.
She leaves as the University completes the final year of its first ever five-year strategic plan — a plan that she championed. The strategic goals focused on preparing students to respond to workforce needs in an increasingly global society, increasing graduation rates, narrowing the achievement gap for underrepresented students, recruiting and retaining a diverse, high-quality faculty and staff, and increasing private fundraising. By all measures, the plan has succeeded.
Under García's leadership, the University has seen a 30 percent improvement in six-year graduation rates and a 65 percent improvement in four-year graduation rates for first-time freshmen — both University records; the achievement gap was eliminated for transfer students and cut in half for first-time freshmen; and annual philanthropic gift commitments nearly tripled — from $8.5 million to $22 million. The institution is No. 1 in California and second in the nation in awarding bachelor's degrees to Hispanics, as well as fifth in the nation in graduating students of color.
This year alone, she has presided over the largest number of degrees ever awarded in a single year, as well as the largest enrollment in the University's history.
"The prosperity of our nation is inextricably linked to affordable, high-quality public higher education," said CSU Chancellor Timothy P. White. "Millie has been one of California's strongest advocates for public higher education and now she can continue that work on a national level. While we will miss her leadership in the CSU, I look forward to continuing to work with her in her new role."
Three years ago, García promised that the University would develop CSUF's first academic master plan. Today, this collaborative undertaking has been completed outlining what faculty teach, who they teach, how they teach, who will do the teaching, and how many will be taught.
Last year, in a sign that the University is emerging as the nation's model public comprehensive university, U.S. News & World Report heralded the institution as a top "national university," rather than a "top regional university," the far narrower category in which CSUF had been previously ranked.
But what these achievements truly represent is the success of tens of thousands of graduates, many the first in their families to attend college, to pursue a path of upward mobility — a path that will affect the lives of generations to come.
A first-generation college graduate and the first Latina president in the largest system of senior higher education in the country, García serves on a variety of local and national boards, including the Association of Public and Land-grant Universities, the Congressional Hispanic Caucus Institute and the American Association of State Colleges and Universities. She was appointed by former President Barack Obama to serve on the president's Advisory Commission on Educational Excellence for Hispanics.
In the coming weeks, Chancellor White will visit the CSUF campus to meet with García and her leadership team and members of the campus community to discuss the appointment of an interim president. The CSU will conduct a national search for a successor for García.