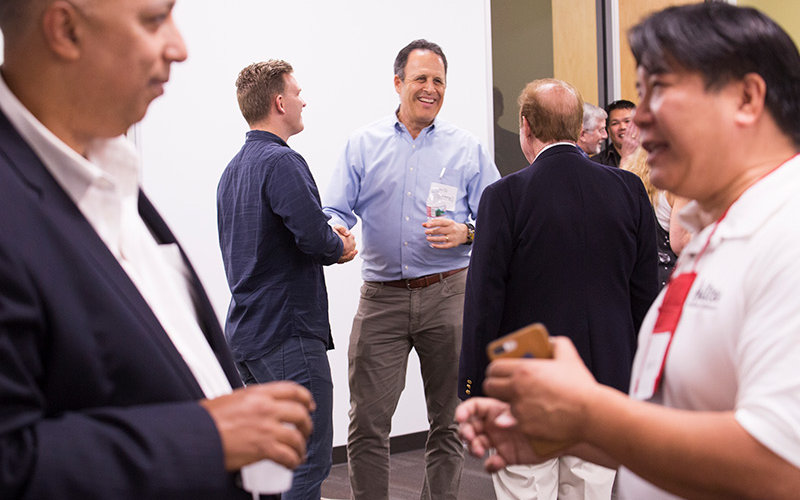 About 250 Orange and Los Angeles county business leaders and faculty members attended a Nov. 15 open house to launch Cal State Fullerton's second Startup Incubator, this time on CSUF's Irvine Campus. The program offers students the opportunity to research and support the development of entrepreneurial companies in the region.
Poised to compete with startup services for hire in south Orange County, CSUF's incubator is different because it offers a student-centered model that expands the classroom into an immersive work experience proven successful at the University's Placentia incubator of two years, says John Bradley Jackson, director of the University's Center for Entrepreneurship, which oversees the incubators.
"There aren't many incubators in Orange County, maybe 20, and most are in Irvine," he said. "The majority of them take equity from the startup. We charge tuition and we have individualized and customized instruction.
"We're also attracting a different type of business in Irvine," Jackson added, comparing the Irvine location to the University's Placentia site on Bradford Avenue. "High-tech is the predominant partner in Irvine."
Dan Golka, chief marketing officer for Med Tech Directory, a neighboring business, said CSUF's incubator expansion was genius.
"Irvine is the hub for new business," he said. "More banks and venture capitalists have moved to this area of Orange County in the last years than anywhere else."
CSUF's incubator offers six-month residencies for startups, connecting the company's representative with a consulting team of students and their coach — a compatible mentor selected from a pool of 600 business leaders. Together the group works toward the resident's goals, including studying market analysis, building a marketing strategy, creating a business plan, developing a startup team and launching the business.
Quarterly reviews and presentations keep the projects on schedule, and startups also can benefit from the University's connections to potential investors and funding sources, Jackson said.
"The value to students is huge," said Marc Pakbaz, a CSUF entrepreneurship ambassador and part-time lecturer. "We are not teaching from an education theme only. This is the best way to learn," said the senior business consultant with AXORO. "I started my first business 30 years ago and I made mistakes. Thirty years ago, there weren't mentors and coaches available to help."
The 1,200-square-foot Irvine pod and its surrounding suite is still being refined, but the center has already hosted several entrepreneurial talks and lunch-and-learn events with area business leaders who are eager to partner with workforce-ready students of CSUF's Mihaylo College of Business and Economics.
Golka said he'll continue to return because he's eager to watch the students in action. The work experience gives students the advantage in their future careers. For the startup, there are advantages also — a fresh perspective and guidance on the market, branding and strategy, he said.
"The program gives our students an edge," Jackson said. "We hear a lot of criticism about the skills gap for job applicants. But our students show up with problem-solving skills because our student consulting opportunities are like mini internships," he added.
For more information about CSUF's Center for Entrepreneurship or its incubators in Placentia and Irvine, contact csufentrepreneurship@fullerton.edu.
Related resources: