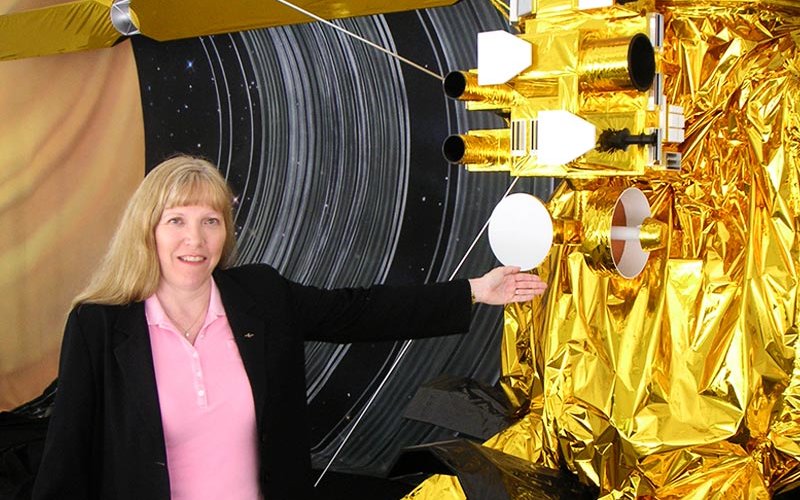 As a third-grader with a shiny new telescope she got for Christmas, alumna Linda Spilker gazed up at the stars, the planets and the universe. Throughout her 40-year stellar career at NASA's Jet Propulsion Laboratory, she has never stopped looking up.
Growing up during the space race, she was a fan of "Star Trek" and was fascinated with NASA's space missions. She even considered becoming an astronaut after watching Neil Armstrong walk on the moon.
Spilker, who grew up in Yorba Linda in the 1970s and graduated from Valencia High School in Placentia, was encouraged by her mother to study math — a discipline she excelled in and not many females pursued at that time. She enrolled at CSUF as a math major, but after taking an astronomy class, Mark Shapiro, professor emeritus of physics, noticed her passion for stargazing and space science — and nudged her to change majors.
Dorothy Woolum, professor emeritus of physics, "took her under her wing" and became her mentor. Spilker worked alongside Woolum on her meteorite research and spent summers with her at Caltech on the project.
"Dr. Woolum was a tremendous role model who encouraged me to consider a research career," said Spilker, who earned her bachelor's degree in physics in 1977. "I got a really good start at Cal State Fullerton. I not only came away with a degree in physics, but also a good understanding of the fundamentals."
Following her graduation, she was hired at NASA's JPL, a division of Caltech, in Pasadena. She credits her undergraduate experiences for preparing her for her out-of-this-world journey to explore and study the planets.
"I feel like I was at the right place, at the right time, with the right education to take advantage of the opportunities at JPL," said Spilker, a planetary scientist and recipient of CSUF's 2005 Distinguished Alumna Award.
When first hired, she was given a choice of planetary missions, and chose to work on the Voyager project that visited Jupiter, Saturn, Uranus and Neptune.
"I said 'Sign me up'! The chance to become a space explorer was just too good to pass up," said Spilker, who earned a doctorate in geophysics and space physics from UCLA.
Spilker is the project scientist for NASA's Cassini project to Saturn, the unmanned robotic spacecraft that made amazing discoveries about the ringed planet and its moons. Launched in 1997, the nearly 20-year mission ended Sept. 15, 2017, with a plunge into Saturn's atmosphere to protect its pristine moons for possible future exploration.
She began working on the project in 1988, and over three decades, the team of more than 300 scientists from across the globe became like family.
"It was a bittersweet moment to see the mission end," Spilker added. 
While the Cassini spacecraft has vaporized and is now part of Saturn, the scientists are still poring over the rich collection of Cassini data — and will be for decades to come, Spilker said. "Many new discoveries still remain buried in those data," she added.
An expert on planetary ring systems, her research focuses on learning new things about how they work, such as how Saturn's trillions of tiny ring particles collide and stick together.
"Saturn and its rings are one of the most beautiful sights," Spilker said.
There were many scientific discoveries about Saturn that Spilker and fellow scientists weren't expecting to find. Most fascinating was learning that Saturn's moons, Titan, the planet's largest moon, and Enceladus, have liquid water oceans underneath icy crusts.
"Titan has no oxygen, but it's an earthlike world with a liquid, methane ocean that might support life," she explained.
Enceladus also holds the promise of life with its active geyser-like jets on the moon's south pole, potential evidence of a salty ocean, which point to the possibility of a habitable world — and Spilker wants to go back.
She is on the science team for a proposed NASA mission called Enceladus Life Finder, and should know by the end of the year if the project is selected.
"I do think there's life out there. Maybe an alien race might find us!" 
Spilker hopes she inspires others to ponder the mysteries of the cosmos. 
"I want people to look up at the stars and planets, and to see the beauty and the wonder of what's out there, and then ask the intriguing question: 'Are we alone in the universe?'"