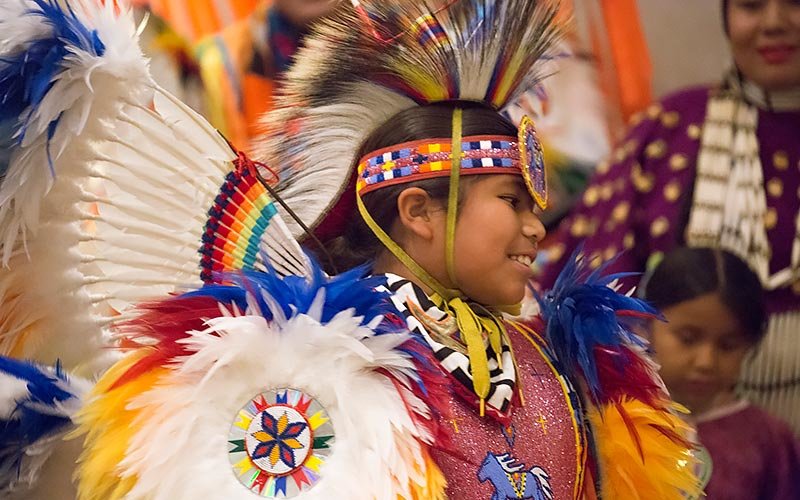 "What is the oldest role of American Indians?" Paul Apodaca posed this question during his keynote presentation for Cal State Fullerton's Native American Heritage Month reception Nov. 8 at the Fullerton Marriott.
"We were teachers," said the associate professor of sociology and American studies at Chapman University. "We've been teaching Europeans for 500 years — teaching them where the food is, teaching them how the animals lived, teaching them how the seasons worked…
"… teaching them where the gold was, though they kind of took off with that," he joked.
Apodaca, a renown scholar who specializes in folklore, mythology, American Indian studies, Southwestern and Mexican culture, said the legacy of education persists in native American heritage today.
"When I was a young man in the 1960s, I knew 80-year-old Navajos. I was able to learn directly from people who had been around in the 1880s and could tell me exactly what history had been and what their family experiences had been," he said.
"One of the great joys of my life is I've gotten to meet those people and hear from them directly," said Apodaca. "Education does not happen generation to generation. It happens lifetime to lifetime, person to person."
Apodaca also dispelled the myth of the "vanishing American" that permeated in the first half of the 20th century, saying that the American Indian population has been on the rise since 1913.
According to the 2010 Census, 5.2 million people in the United States identified as American Indian and Alaska native, either alone or in combination with one or more other races — an increase of 39 percent since 2000.
"The idea that native people are here in these numbers and yet not seen is a great mystery," said Apodaca. "We're still here."
He continued, "My invitation to you is to learn more about this rich history that we all share, so we can move forward in creating a better America than we've ever had — one that will justify all the sacrifices all of us have made and one that will enrich all of our children."
Tonantzin Oseguera, associate vice president for student affairs-engagement, welcomed campus and community members to the heritage month celebration and underscored the importance of "thinking about who we are, where we came from and what we, as a country of diverse people, aim to become.
"It is our ultimate hope that the ensuing dialogue and action do not end after one month, but become embedded in everything we do in our classrooms and communities," said Oseguera.
The event also featured an Acjachemen traditional prayer and blessing from Jacque Tahuka-Nunez, multi-generational dance performances by Ben Hale and the Eagle Spirit Dancers, and testimonials from CSUF's Inter-Tribal Student Council.
"It is because of those ITSC members who came before us — and their belief that our culture and community is something worth fighting for and celebrating — that we are able to say, 'we are still here,'" said Raven Bennett-Burns, ITSC president and an art major.
Chase Sheriff, a mechanical engineering major, ITSC treasurer and Associated Students Inc. representative, shared, "Being the first member of native American descent elected to the ASI board of directors was a huge milestone for indigenous people at CSUF. This has given a platform to voice the concerns and successes of native people."
The reception concluded with two award presentations. Allison Wilson, ITSC vice president and an anthropology major, received the Native American Essay Recognition Award for her reflections on the heritage month theme, "We Are Still Here." Vicki Vasques '76 (B.S. human services), owner, president and CEO of Tribal Tech, LLC, received the Native American Alumni Recognition Award.