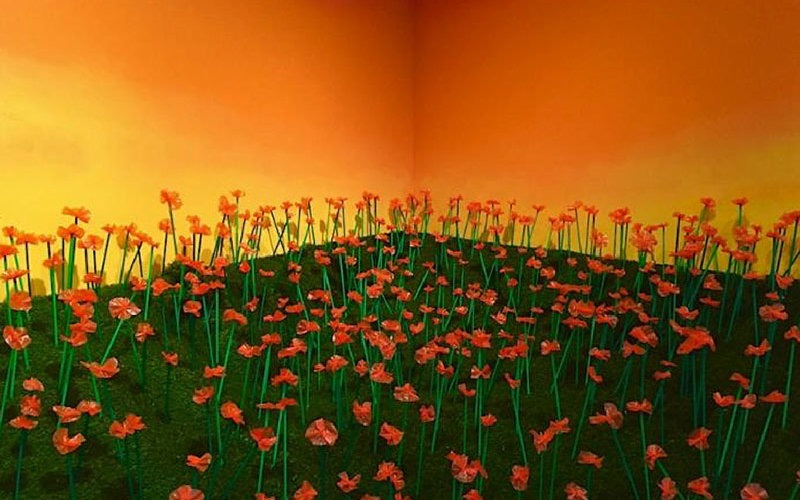 It was only months ago that poppies blanketed California's Antelope Valley. They're now back, in a way. Rebecca Chernow, community engagement creative-in-residence at Grand Central Art Center, has created "#superbloom," an installation that simulates a California poppy field but is made from plastic items disposed of in Santa Ana — green straws from Starbucks and orange shopping bags from Fallas Discount Store. 
The work pays homage to the wealth of orange poppies that covered parts of California last spring, creating a huge influx of visitors that also brought excessive trash and congestion to the area. A 7 p.m. Saturday, Nov. 4, reception kicks off the exhibition, which will be on display through Jan. 17.
A glass and ceramics sale from local artists and students will begin at Grand Central Art Center on the same day. Continuing exhibitions at the center include "Deipnophoroi," a video diptych by artist-in-resident Maya Gurantz that brings ancient Greek lore to the modern age through the lens of motherhood.
Cal State Fullerton's Grand Central Art Center, which recently won "Best Art Gallery" in the OC Weekly's "Best of 2017" list, is located at 125 N. Broadway in Santa Ana. Additional information is available online. 
Photo Exhibition Continues
On Cal State Fullerton's main campus, the Begovich Gallery presents "The Dead: Photographs by Jack Burman" through Dec. 7. Jacqueline Bunge '08 (M.A. art-design, museum studies certificate), the gallery's programs curator, curated this exhibition herself, which features some of Burman's work documenting the dead in different continents over the course of several decades. 
Also at the Begovich through Dec. 7 is "Suvan Geer: What We Saw of it …" The installation of multiple video projections is an exploration of the experience of remembering, curated by graduate exhibition design students Laura Black and Selena Robles. 
The Begovich Gallery  is located at 800 N. State College Blvd., Fullerton, 92831. The gallery is open noon-4 p.m. Mondays through Thursdays and noon-4 p.m. Saturdays.