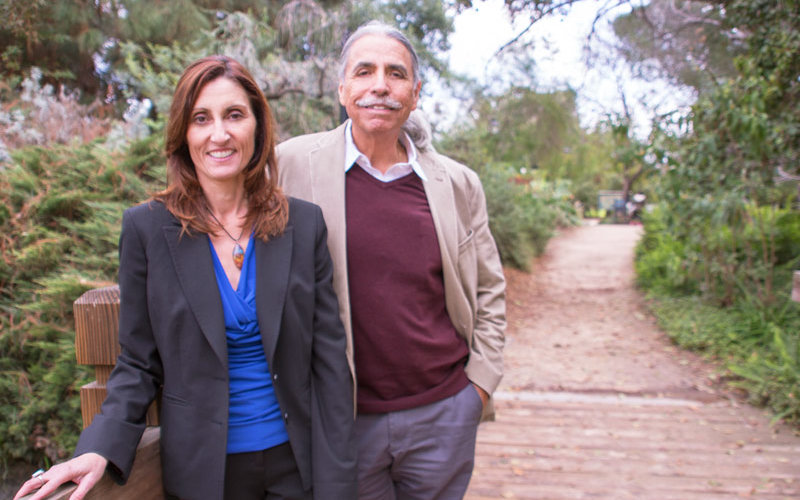 Two faculty members from health science and counseling are working together on a common goal for the classroom — to expand discussions on mental and physical health to the importance of spirituality.
Not religion but spirituality: thinking beyond material to humanistic qualities such as compassion, patience, responsibility, and how it affects decisions and behaviors. Viewing development and one's everyday routine through a spiritual framework can have a profound impact on one's life course, according to Dara Vazin, lecturer in health science, and Jose Cervantes, professor of counseling.
The result is a new course being introduced this spring, health science 426 — "Spirituality and Health."
"Spirituality helps people feel connected to something bigger than themselves, provides a way of coping with challenges and allows them to make sense of what is happening," explains Vazin, who has been teaching on campus for 15 years. "The incorporation of spiritual awareness and spiritual competency can create a more integrated person who feels more a part of a whole, rather than isolated — that they are part of an integrated whole."
"It's interesting that in the arts and music, artists have discussed the importance of spirituality in their work, but not in health, counseling or psychology," says Cervantes. "We tend to focus on things through the lens of psychology first and spirituality second — that totally changes the outlook."
"This type of course has been in the making for many years," says Vazin, who will be teaching the course with Cervantes a frequent guest speaker. "I had been teaching a course on personal health for years and felt that the area of spirituality — and how it affects decisions regarding both personal and public health — was underrepresented in the curriculum."
Vazin and Cervantes added that the class is specifically dedicated to both the academic and experiential understanding of spirituality and health outcomes, and seeks to advance the development of compassion, integration of one's personhood and desire for meaningful participation in one's community.
They advanced the idea of the course with a 2016 College of Health and Human Development conference on the subject of including spirituality into courses. "We invited people from both on and off campus to come and listen, respond and question. More than 200 attended," Vazin says.
The University is really an ideal setting for a course in this area, she stresses. "The goal of our course is to provide students from all disciplines with the tools to cope with life challenges and hopefully lead a more balanced life."
"We hope that through this method of teaching we will open students' eyes to the concept of spirituality and help them grow," Cervantes adds.
"Our goals are to ultimately promote the development of students' own resiliency, to introduce discussions of what it means to be a spiritual individual, how to create effective interventions to manage life stressors which integrate spiritual and well-being perspectives, to evaluate cultural differences in perspectives on spirituality, and to find links between individual spirituality and public health," says Vazin.