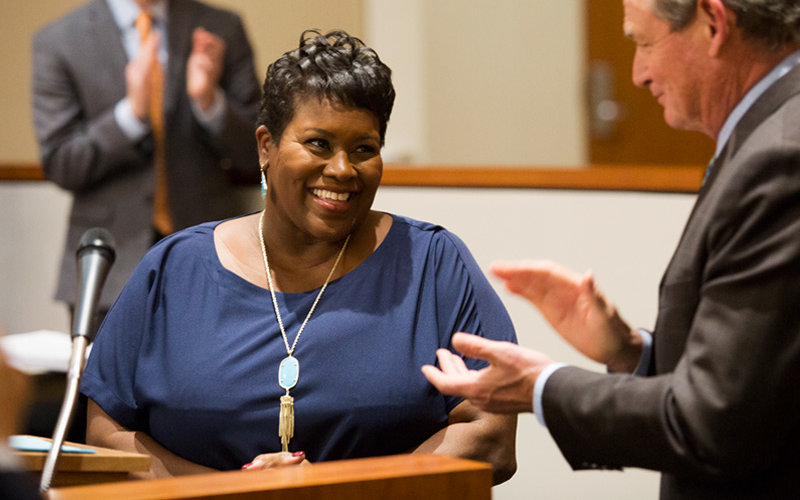 The California State University honored Berenecea Johnson Eanes, CSUF's vice president for student affairs, with the 2018 Wang Family Excellence Award for Outstanding Staff Performance at its Jan. 30 Board of Trustees meeting.
The annual award celebrates four faculty and one staff member for outstanding commitment to student achievement and significant contributions in their fields. As part of their recognition, honorees receive a $20,000 award established through a gift from CSU Trustee Emeritus Stanley T. Wang.
Eanes, who joined Cal State Fullerton in 2012, has achieved transformative results in her role as vice president for the Division of Student Affairs and a member of the President's Cabinet. Notably, she served as a key player in developing and implementing the university's first-ever Strategic Plan from 2013-18, launched a number of campus initiatives to support success among a diverse population of more than 40,000 students, raised more than $14 million in support of students and student programs, and currently serves as co-chair of the Graduation Initiative 2025 task force to boost four-year graduation rates.
The 13th Titan to receive the award since 1999, Eanes joins fellow 2018 honorees, Cal State Northridge's Ivor Weiner for Outstanding Faculty Service, San Francisco State University's Mary Beth Love for Outstanding Faculty Innovator in Student Success, Cal Poly San Luis Obispo's Suzanne Phelan for Outstanding Faculty Scholarship, and Cal State San Marcos' Merryl Goldberg for Outstanding Faculty Teaching.
"The combined contributions of this year's Wang Family Excellence Award recipients are reshaping the university and global learning community," said CSU Chancellor Timothy P. White. "Through the generosity of Trustee Emeritus Stanley T. Wang and his family, these faculty members and administrator — each of whom exemplifies the California State University mission — will receive well-deserved recognition and support for their continuing work."