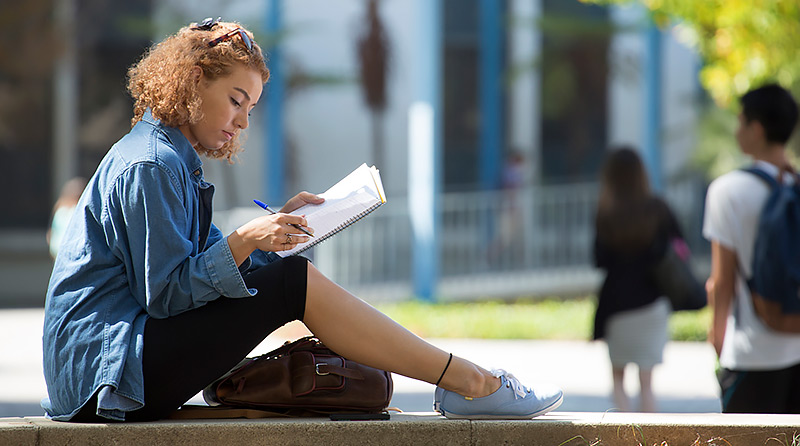 Cal State Fullerton will receive $444,319 from the Andrew W. Mellon Foundation to establish a Mellon Mays Undergraduate Fellowship (MMUF) program.
CSUF is part of a five-campus CSU Consortium — with Dominguez Hills, Los Angeles, Long Beach and San Bernardino campuses — serving more than 100,000 students, the majority of whom are underrepresented, first-generation or low-income students. The total funding for all five CSU campuses is $2.2 million.
The focus of the funding will be to increase rigorous academic opportunities and provide financial support for students who will pursue a Ph.D. in the humanities immediately after completing their bachelor's degrees.
Cal State Fullerton took the lead on securing this grant. Mary Ann Villarreal, associate vice president for strategic initiatives, and Karyn Scissum Gunn, associate vice president for academic operations, are the principal investigator and co-PI, respectively.
CSUF's College of Humanities and Social Sciences serves almost 8,000 students. Funding will assist high-achieving students from about 20 different humanities and social sciences majors by building foundations for student doctoral preparation through a cohort focused on scholarly research and faculty mentorship.
Based on Cal State Fullerton's demographics and focus on working with underrepresented and first-generation students, the university is well-suited to partner with MMUF.  This is coupled with the university's commitment to decrease the achievement gap between students of color and their Caucasian peers, leverage campus diversity to prepare students for participation in a global society, and increase faculty and staff diversity.
In the past five years, CSUF has decreased the achievement gap by three percentage points among first-year freshmen and eliminated it entirely for transfer students. Also in that period, CSUF achieved a 20 percent improvement in six-year graduation rates, and 163 tenure-track faculty members, whose diversity more closely aligns with the student body, were hired.
"This collaboration between MMUF, Cal State Fullerton, and four of our sister campuses has the potential to become one of the most impactful partnerships in the three-decade history of this transformative program," said Fram Virjee, president of California State University, Fullerton. "In addition to better serving our students and elevating their academic aspirations beyond a bachelor's degree, the work and success of this consortia will be of value to other public institutions and to the national academic landscape as we aim to share our experiences with colleges and universities around the nation."
"To have received this grant from the Mellon Mays Undergraduate Fellowship program is significant not only for our campus but, most particularly, for the students and faculty of the College of Humanities and Social Sciences," said Sheryl Fontaine, dean of the College of Humanities and Social Sciences. "I am excited for the opportunities this program will provide our students and faculty and the long-term impact it will have on higher education. Receiving this Mellon Mays grant, our campus joins a list of institutions of higher education that, until now, has mostly included only private colleges or research-based universities. With this award, Mellon announces the importance of public, comprehensive universities to higher education and the significant place for our students in its future."
Cal State Fullerton already has the distinction of being first in California and second in the nation in the number of bachelor's degrees awarded to Hispanic students.
"The Mellon Mays Undergraduate Fellowship is a unique avenue to provide realistic opportunities to brilliant and hardworking underrepresented students of Cal State Fullerton," said Zakyi Ibrahim, chair and professor of religious studies at Cal State Fullerton and the MMUF student coordinator. "I am proud and immensely pleased that with this grant, humanities majors will be the beneficiaries of this highly coveted program. I am excited and eager to help our students reap the rewards of their hard work in obtaining their doctorates and becoming professors."
An information session will be held at noon Thursday, Feb. 1, in Room 219 of the Humanities-Social Sciences Building for students interested in learning more about the program. Details and eligibility information are available online: http://hss.fullerton.edu/mmuf/.
"Inviting family members to the discussion helps create support mechanisms for many first-generation students," said Ibrahim. "Most families want to support their students academically but may not have the experience or knowledge to do so."
Four selected students will be named as MMUF Fellows to participate in summer programs, be paired with a faculty mentor to develop a research plan, initiate research, and with the guidance of their mentors, spend four weeks conducting research in preparation for the first academic year.
Subsequent programs through the years will develop students' research skills, and prepare them for rigorous internships at research institutions across the U.S.
Students selected for the program also will meet with top scholars, curators and archivists, community planners and other humanities professionals to present their research and learn more about specific programs, centers and community needs.