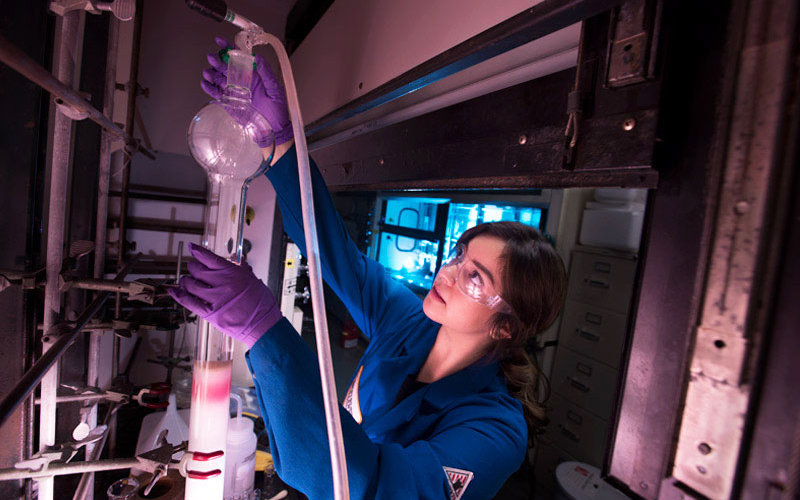 With today's chemotherapeutic treatments largely palliative in treating cancerous tumors, undergraduate researcher Stacy G. Guzman is using synthetic organic chemistry to develop small organic molecules that are potent anti-cancer drugs.
For her outstanding research, the biochemistry major has won the 2018 Glenn Nagel Undergraduate Research Award from the California State University Program for Education and Research in Biotechnology. Guzman was presented with the award at this month's California State University Biotechnology Symposium, organized and hosted by CSUPERB in Santa Clara. The award is aimed at fostering excellence in biotechnology-related undergraduate student research throughout the CSU system.
"I am a strong believer in the concept of 'work hard and smart,' so receiving this recognition for my research project has paid off and means everything to me," Guzman said.
She was drawn to the research project because of the potential to improve human health — from treating colorectal, breast, cervical and pancreatic cancers.
"It's rewarding because our research could have therapeutic relevance. There are currently no FDA-approved drugs on the market that are similar to our work," she said. "Our goal is to develop a new drug treatment, which follows a targeted-therapy approach for various advanced cancers that is less toxic and more successful."
Peter de Lijser, chair and professor of chemistry and biochemistry and Guzman's faculty mentor,  nominated her for the award. "She is very driven, motivated, and she knows what she wants," de Lijser said.
In 2016, Guzman participated in a summer research experience at Harvard University's Broad Institute — a biomedical and genomic research center — and was invited back for a second internship last summer. She was selected as a Sally Casanova Scholar in the California State University Pre-Doctoral Scholars Program, where this summer she will conduct research at MIT.
A senior, Guzman added that the opportunity to conduct research at CSUF and Harvard has been a driving force in influencing her to go to graduate school. She plans to pursue a doctorate in the field of chemical biology and aspires to become a scientist in academia or industry.  
Throughout her undergraduate education, Guzman has presented her research at regional, state and national conferences, and has won a number of prestigious awards. She also received the 2017 Overcoming Challenges Award from the American Chemical Society and a 2018 Howell-CSUPERB Research Scholar Award.
CSUPERB partners with the Doris A. Howell Foundation for Women's Health Research to fund promising undergraduate student research projects in topics related to women's health. She was awarded $3,500 for a new research project focusing on investigating breast cancer cells, which she will start this spring.
"My breast cancer research is far more than a passion. It is incredibly personal," said Guzman, who knows women diagnosed with breast cancer and wears a pink ribbon on her lab safety goggles.
The first in her family to attend college, Guzman is well- prepared to pursue a career in science, de Lijser said.
"Working with Dr. de Lijser has been an honor, and the experience has provided me with the training I need to become an independent scientist to eventually achieve my goal of leading my own research team," she said.
"What I have learned most of all is that I always want my research to make a direct impact in human health and medicine to mitigate suffering and death from disease. I also hope to improve diversity in STEM — and inspire a new generation of scientists."