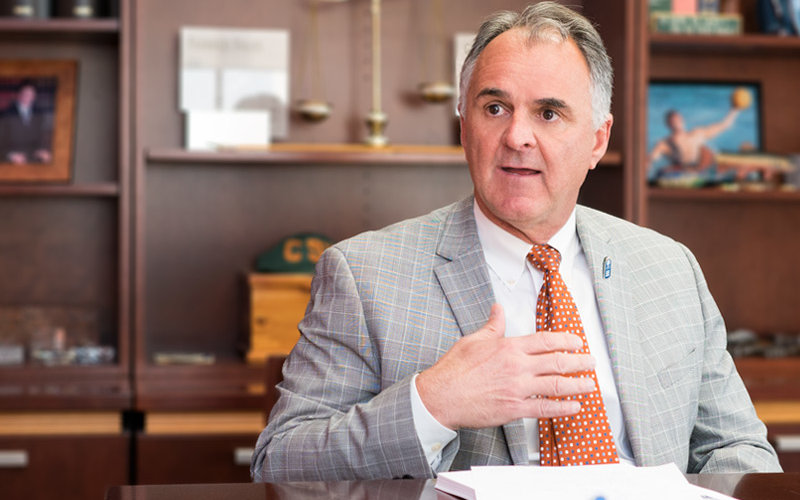 It was a deep belief in equality and social justice that drew CSUF President Framroze (Fram) Virjee to the study of law, and a lengthy career at the law firm O'Melveny & Myers that allowed him to put his passion for education to work.
Practicing law for Fortune 500 companies and meeting with clients around the world "was intellectual, challenging and heady stuff," said Virjee. "But, as fulfilling as it was, during my entire legal career I was always on the lookout for a way to pursue my dedication to education and social mobility. I suppose that is why I always had, I guess you would call a devoted niche practice of representing educational institutions — from the very small to some of the largest in the world." Indeed, Virjee dedicated much of his time at the firm representing the Los Angeles Unified School District — the largest public school system in California and the second largest in the United States.
"I was drawn to representing educational institutions because, in so doing, I felt I was pursuing the social good," he explained. "To be sure, there is nothing wrong with working hard for shareholders and business; that is what makes the economy run, and in many ways, creates a rising tide that lifts all boats. I understand that. But when I worked for education — for school districts and universities — I went home smiling. I went home believing that what I was doing was having a positive impact on society." 
This affinity for and appreciation of the value of education developed early, well before Virjee began practicing law. It was his parents who helped him understand higher education's role in the strengthening of the fabric of society as well as using social and economic mobility as a tool to advance equality and social justice. Virjee became the first in his family to earn a college degree, double majoring in political science and sociology and graduating summa cum laude from the University of California, Santa Barbara. With the floodgates open, he went on to earn a Juris Doctor cum laude from the University of California, Hastings College of Law.
"My parents never asked me, 'Do you want to go to college?' It was, 'You're going to college. This is what you must do. We will find a way.'" Like so many of the students he now serves as president of Cal State Fullerton, that "find a way" mentality transformed not only his life, but also his family legacy. Today, all three of his sons are college graduates, two with postgraduate degrees, and his newborn grandson was wearing a Titan onesie in his first weeks of life.
Virjee spent 30 years at O'Melveny & Myers, the oldest law firm in Los Angeles and one of the largest in the country, where he became one of the nation's leading labor and employment lawyers. "Working with and representing employers in important labor and employment issues gave me the chance to work within businesses to assure employers did the right thing to protect and advance their employees."
One of Virjee's mentors at O'Melveny, former Secretary of State Warren Christopher, made a lasting impact. "Very early in my career, Chris said to me, 'Fram, your reputation is all you have. You have to honor it, cultivate it and protect it,'" recalled Virjee. "But I was fresh out of law school, a 'baby lawyer,' as we say, so my response was as humorous as it was predictable: 'Chris,' I said, 'I'm just starting out. I don't think I even have a reputation.' Chris paused with a knowing smile, saying, 'Fram, everything you do from this point forward is the foundation for your reputation. Be truthful. Be collegial. Be honorable. Be fair. If the other person isn't doing that, that's their problem, not yours.' 
"That's how I have practiced law my whole career," Virjee said, fondly remembering the interaction. "In fact," he added, "that is how I have tried to live my life."
Virjee joined the California State University in 2014 as executive vice chancellor and general counsel. In this position, he also served as secretary to the system's board of trustees.
This past December, CSU Chancellor Timothy White named him president of California State University, Fullerton effective Jan. 1. He succeeds Mildred García, who, on Jan. 22, becomes president of the American Association of State Colleges and Universities.
"When I joined the CSU, Chancellor White issued me a challenge to visit all 23 campuses within that first year, and so I did. … What a blessing. You walk onto a university campus, and it's awesome. It's all energy and promise. I'm really excited about that. It's a chance to quilt-in my personal life, my professional life and my life in the community," said Virjee. "My time at the Chancellor's Office was an amazing experience. I really enjoyed it, but you don't get to directly interact with students or faculty too often. Coming to Fullerton is an opportunity to have much greater interaction and, hopefully, a more direct impact."
'It's Who We Are'
As he takes the helm of Cal State Fullerton, Virjee says he's incredibly excited to turn his passion into action, even as he's aware of the challenges the institution faces — primarily those related to funding. But, he notes, CSUF has "so much momentum."
"I want to use that momentum. To work together to catapult us," Virjee said, citing the University's work in high-impact practices and experiences for students, continued improvement in graduation rates, addressing infrastructure needs, pursuing reaccreditation and developing the next strategic plan.
"Every time I read a new story about what one of our Fullerton faculty members or students is doing, I think, 'Oh my gosh! I can't believe we just did that!' For example, I see how our campus embraced the graduation initiative, and look how far we've come," he said. "So, on the one hand, I'm surprised by all that we accomplish — yet at the same time, nothing surprises me because this is Fullerton! Just a short while ago, I would have said, 'It's who you are.' Now I get to say, 'It's who we are.' I believe that, together, we can do just about anything."
In an email to faculty and staff on Jan. 4, Virjee wrote: "I've long felt the collaborative energy radiating from this campus — everyone has. … I am not here to reinvent a wheel that is already blazing an incredible trail, but I am here to put my shoulder to that wheel and support all of you in pushing it to even greater heights. I am not here to disrupt the wonderful web of continuity our fabulous team of faculty, staff and administrators have created, but I am here to help weave new layers into that web and join you in seeing it grow in ways that were previously unimaginable. And I am not here to scrap or rework the University's next strategic plan, our GI2025 efforts, or the WASC Senior College and University Commission reaccreditation process, but I am here to roll up my sleeves and work with you so that these critical processes, along with everything else we do, is always in the best interest of our students."
At Virjee's side throughout his career has been his wife, Julie. They met while both were in college at the University of California, Santa Barbara. "She waited patiently while I finished law school," joked Virjee.
"Julie and I talked it through and made a very specific and informed decision to move to Fullerton and become a part of this wonderful community," Virjee said. "I get the chance to connect my personal passion for equality, social justice, social mobility and education with my professional passion for doing those things as part of a greater community. I think that's going to be very exciting. It's a new beginning."