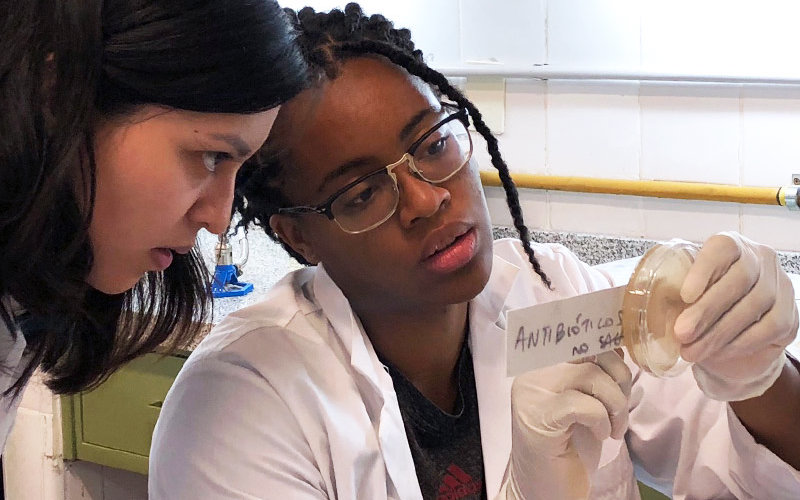 Inside a laboratory at Hospital de Clinicas Jose de San Martin in Argentina, biological science major Nyah Rodman had the opportunity to study a bacteria known as Staphylococcus epidermidis that can cause human infections.
Rodman studied a clinical case involving a 53-year-old Argentine man who already had pneumonia, but staph also was recovered in blood cultures. Applying knowledge learned in the classroom and lab research skills, Rodman concluded that the presence of staph in the blood was caused by contamination and improper cleaning of the injection site for the blood draw.
Classmate Sean Doorly worked in the same lab and studied the case of a 45-year-old male patient who came to the public teaching hospital with a small cyst on his leg. It turned out to be a MRSA infection, caused by a type of deadly bacteria known as methicillin-resistant Staphylococcus aureus, which has become resistant to many of the antibiotics used to treat staph infections.
The Cal State Fullerton students gained hands-on clinical experiences to study bacteria that cause human diseases as part of a new study-abroad course in clinical microbiology, directed by María Soledad Ramírez, assistant professor of biological science.
Ramírez, a native of Buenos Aires with experience in molecular microbiology and clinical research, came to CSUF nearly four years ago. Through her collaborations with scientists in Argentina, the antibiotic-resistance researcher created the course to give science students the opportunity to work in a laboratory environment in a developing country.
"Our students became part of an international scientific community," Ramírez added. "Studying abroad, and being away from home and family, exposed them to a diverse, new culture and a different health care system, where public hospitals have limited resources. These kinds of experiences always opens one's eyes, and can be life-changing."
The course, held during winter session in January, gave students the tools and knowledge to understand the epidemiology and molecular mechanisms of infectious diseases. Students attended lectures on campus followed by two weeks of clinical research at the University of Buenos Aires-affiliated hospital, where they worked alongside Ramírez and the hospital's microbiologists and physicians.
The future scientists were introduced to the latest topics and treatments in controlling and preventing infectious diseases, and worked on clinical cases related to the most prevalent microbial pathogens in humans.
"Everything I have learned in the classroom and in Dr. Ramírez's lab, I got to apply to a real clinical case in Argentina." — Nyah Rodman
Rodman and Doorly, both seniors who plan to graduate in May, were headed for careers as physicians. But doing research in a clinical setting in another country, as well as with Ramírez on campus, reinforced their passion for infectious disease research.
"Even though medical resources in the U.S. seem to surpass the medical resources offered in Argentina, and even with these limited resources, the Argentine physicians, nurses, hospital care workers and clinical microbiologists were able to provide the best possible and available care for their patients," said Doorly, who has worked as an emergency medical technician and medical scribe.   
Doorly, studying cell and developmental biology, aspires to a career as a trauma surgeon. But before medical school, he now wants to do more research. This semester, he is working in Ramírez's campus lab and plans to attend a graduate research program next year.
His research project with Ramírez and two other students involves studying the bacterial interaction between two pathogens, Acinetobacter baumannii and Staphylococcus aureus. The researchers are trying to determine whether sharing the same environment has a positive or negative influence on each other regarding their ability to change and affect the bacteria's susceptibility and virulence, as well as whether they are becoming more resistant to antibiotics when together.
Rodman, studying molecular biology and a pitcher on the Titan softball team, has been conducting antibiotic-resistance research in Ramírez's lab for the past two years. That experience, coupled with the research experience in Argentina, has pushed her on a path to pursue a Ph.D./M.D. program.
"Everything I have learned in the classroom and in Dr. Ramírez's lab, I got to apply to a real clinical case in Argentina," said Rodman, who was exposed to high-tech microbiology lab equipment that can identify and diagnose bacteria.
In Ramírez's lab, Rodman is investigating Acinetobacter baumannii, a bacterium that can cause a range of infectious diseases and is multidrug resistant.
"We're studying how this bacterium survives, persists and spreads in humans," Rodman said.