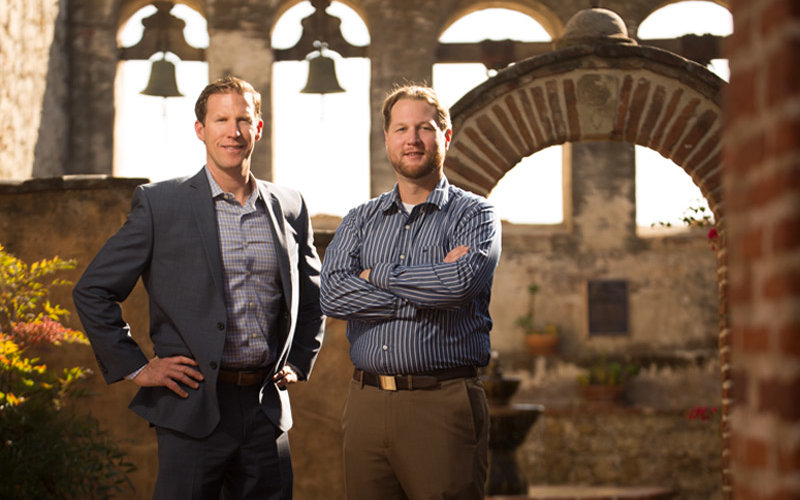 More than a decade ago, Ben Siegel envisioned a program that would forge a closer relationship between local city managers and master of public administration students interested in becoming city managers.
The program would give students real-world experiences — attending city council meetings where controversial policies are debated, discussing capital projects with city management staff, working on strategic projects or initiatives — while having the opportunity to discuss key takeaways and lessons learned with professional mentors.
"I felt that city managers and other local government executives could offer a practitioner's perspective that would complement the theoretical coursework of Cal State Fullerton's public administration program," says the alumnus, who received his M.P.A. in 2007 and currently serves as San Juan Capistrano's city manager.
Siegel has returned to his alma mater this year to serve as a mentor for the fellowship program he helped initiate. He is mentoring Stephen Coffey, who, after dedicating four years to the U.S. Marine Corps, knew he wanted to continue his career in public service.
As an undergraduate student at CSUF, Coffey found a home in the University's Veterans Resource Center, where he began working to expand personal development and community engagement opportunities for other student veterans. Not stopping after earning his bachelor's degree in communications in 2016, he decided to pursue an M.P.A. and learn about the intricacies of government work through the City Management Fellowship Program. 
"The program has a strong reputation and network of alumni who have done great things not only in Orange County, but around the country," says the graduate student. 
Alumni Return as Mentors
Now in its sixth year, the City Management Fellowship Program is designed for master of public administration students who wish to develop essential management skills. More than 25 students have benefited from the program to date.
Fellows are paired with a mentor, attend educational workshops and conferences, and each receives a $1,000 scholarship and one-year membership to the Municipal Management Association of Southern California. The program collaborates with and has been funded by the Orange County City Manager's Association. It also has received support from corporate and individual donors, such as Care Ambulance and C.J. Segerstrom & Sons.
"The City Management Fellowship gives M.P.A. students the ability to interact directly with the top people in their field, to learn firsthand how tough local decisions are made, and have city managers look at resumes and offer career advice," says Shelly Arsneault, professor of political science and program director.
"I think people would be surprised to learn about the breadth of services that are provided by cities which, in turn, demands that city managers quickly come up to speed on a wide array of issues," says Lake Forest City Manager Debra Rose, who earned her M.P.A. from CSUF in 1997. "There is no typical day for a city manager, which is what makes the job both exciting and challenging." 
Rose, who is serving as a mentor to graduate fellow Jazmine Hooks this year, shares with her examples of the diverse topics city managers must learn — from a pest that could devastate Orange County's urban forest and how to properly relocate wildlife to construction issues related to building a multimillion dollar civic center and options for affordable housing.
The ability to think critically is one of the most valuable skills Rose honed as a graduate student.
"The coursework taught me to analyze complex, technical information and use it to make solid policy recommendations to the city council," she explains. "I had such a great experience in the M.P.A. program that I wanted to do my part in helping the next generation of public administrators."
Aspiring to become a city manager, Coffey understands that the journey begins by getting involved in programs like these and learning from established leaders in the field. 
"Already Ben has shared a lot with me and has provided a valuable inside perspective on the life of a city manager," he says. "The City Management Fellowship Program is an excellent opportunity to network with local government professionals and to glean from their experience." 
"My M.P.A. from CSUF has been essential to my career in local government," says Siegel. "It is remarkable to see how theories of management, organizational culture and leadership written nearly 100 years ago are still entirely relevant today."