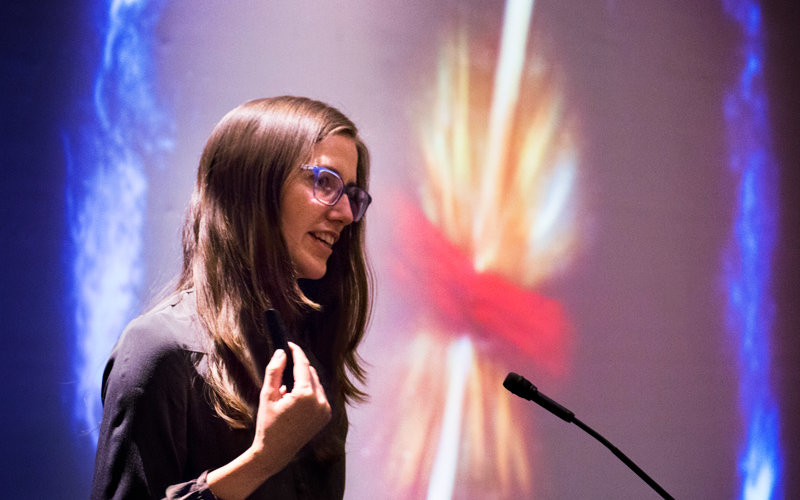 Cal State Fullerton astrophysicist Jocelyn Read has helped transform the world of science and can add "OC Game Changer" to her stellar list of accolades.
Read, assistant professor of physics, is part of the international research effort that detected the first gravitational waves produced from colliding neutron stars — in a galaxy 130 million light years away from Earth.
For her contributions to this history-making astronomical discovery last August, she has been recognized as one of Orange County's 2018 "Game Changers" by the Orange County Business Council.
She was among four scientists, a philanthropic-minded business executive and a professional baseball player lauded at the council's recent annual dinner for their work in "transforming the world."
"These are people making amazing progress with global impact in their respective fields — and all of them are working right here in Orange County," said Lucy Dunn, a CSUF alumna '76 (B.A. political science) and president and CEO of the Orange County Business Council.
Read was honored to be included in the group of leaders in business and academia who have made broad and game-changing contributions. "I was really impressed by how much scientific and economic activity is going on in Orange County," said Read, a Fullerton resident and native of Calgary, Alberta, Canada, who joined CSUF in 2012.
A leading binary neutron-star expert, Read has received numerous grants for her research, including nearly $1 million from the National Science Foundation to lead a CSUF project to recruit and support underrepresented students in gravitational-wave science.
Read also was selected as one of the county's 2017 "Most Influential" by the Orange County Register.