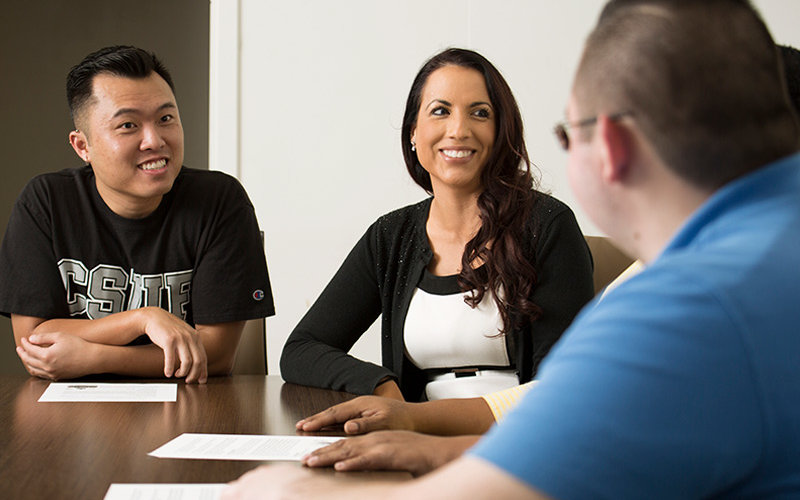 Students transferring to Cal State Fullerton, especially underrepresented and first-generation students, are getting a supporting hand in making their way to a college degree and preparation for graduate school, thanks to the new Titan Scholars Program.
The program, established last fall through a Graduation 2025 innovation grant, was designed specifically to help decrease time to earn a degree, improve graduation rates and increase knowledge about and preparedness for graduate school.
"Our goal is to help these students become better integrated into college life at Cal State Fullerton, as well as be better prepared to go onto graduate school," said Patricia Literte, director of the program and a professor of sociology. "We provide intensive services to a small group of students, focusing not only on successful completion of their bachelor's degrees, but also helping them establish the foundation and develop the tools to move on to graduate school."
That resonates with Thuan Nguyen, program coordinator for the program and a graduate student in sociology. "I come from a similar background and share very similar experiences with the students in the Titan Scholars Program. My family and I are immigrants and neither of my parents attended college. Although they have always been supportive in my academic endeavors, I essentially had to navigate the community college and university systems without their guidance."
Nguyen said it was the help of caring faculty and staff that has helped him and encouraged him to do the same for the Titan Scholars. "I strive to be a resource for these students in the same way as those mentors who helped me."
"The mentoring and support clearly say 'We're here for you,'" said scholar Kimberly Hardaway, a human services major who transferred to CSUF after hearing her community college instructors praise the human services program. "CSUF has an outstanding reputation, and the Titan Scholars Program offers many opportunities to help me succeed in my career goal of a doctorate in behavioral social science and preventive medicine/public health.
"The Titan Scholars Program has definitely helped me understand the graduate school process, how to prepare and apply to a doctoral program, and has offered opportunities to actually check out doctoral programs by visiting graduate schools."
Biochemistry major Stephen Gonzalez agreed. "From the get-go, each program I've been accepted to has helped me tremendously as an undergraduate," said the former Howard Hughes Medical Institute and Research Careers Preparatory Program Undergraduate Scholar.
"Titan Scholars emphasizes the importance of networking and as a result, my research work with Dr. Niroshika Keppetipola has improved substantially. She's recounted her experience in applying for graduate school to me as well.
"I'd tell students that if they are thinking of going to grad school but don't know how or where to go, check out the Titan Scholars Program," added Gonzalez, whose career path is to become a university professor and one day direct a program such as the one that helped him.
"I'd tell them 'don't waste any time. Look at what the Titan Scholars Program has to offer, get the information and apply," said Hardaway. "You won't be disappointed. They have everything to help you."