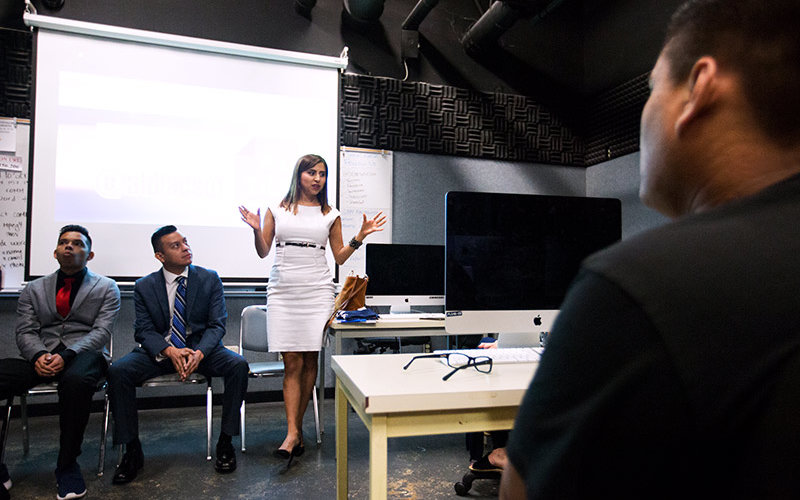 Luz Ileana Torres '16 says she could not have predicted how quickly her career in broadcast journalism would progress after connecting with Cal State Fullerton's Latino Communications Institute. But she's grateful her mentor, the institute's director Inez González, could see into her future.
"I remember, she asked me, 'How badly do you want this?'" said Torres (B.A. communications – journalism), now a weekend producer for Telemundo in Dallas. "Because of LCI, I was always one step ahead with my resume and networking skills, and I practiced my elevator speech driving home from classes, in the restroom and looking in the mirror. If you're real about your dreams, you have to work at it," Torres said.
Torres and two other Titan alumni at Telemundo returned to campus last week to speak to the students who produce CSUF's Spanish news broadcast "Al Día."
CSUF's institute and communications curriculum offer immersive opportunities on and off campus, where students gain a competitive edge and real-world experience producing the news. The alumni saw results, earning attention and out-of-state job offers, immediately after graduation. The unique and practical experiences are key in preparing for a career, but students also need to listen when mentors suggest prioritizing that career well before it's time to walk in commencement ceremonies, the trio said.
Torres doesn't regret her decision as a student to shift from full-time to part-time employment to make room for "Al Día" production schedules and industry networking opportunities. Those networking opportunities helped her land her first job.
Jose Campos '14 (B.A. communications-journalism), a bilingual digital producer for Telemundo in Dallas, first experimented on camera with "Al Día" and took advantage of internships with Telemundo in Los Angeles. "I know that experience is what got me my third Emmy Award," he said.
"I got involved in LCI in the second half of my junior year and I wish I had found mentors sooner," said Alfredo Sanchez '16 (B.A. communications – journalism), a sports broadcaster for Telemundo in Oklahoma. "If you haven't gotten involved yet, do it now," he told students.
The trio suggested students read and speak Spanish often and learn not to take criticism personally. Supervisors are likely to be critical of story pitches, haircuts and attire. They aren't shy about telling reporters when to improve or alter their accents either.
The graduates admitted they envied current students with access to newer and additional equipment —the same equipment available in newsrooms. Experiment and make mistakes among peers, the graduates coached.
"Do it. Try it all," Torres urged. "Practice going live. If you don't do it now, you're going to struggle later," she said.  
"Take advantage of all the resources at CSUF and create connections with people in the industry," Campos said.