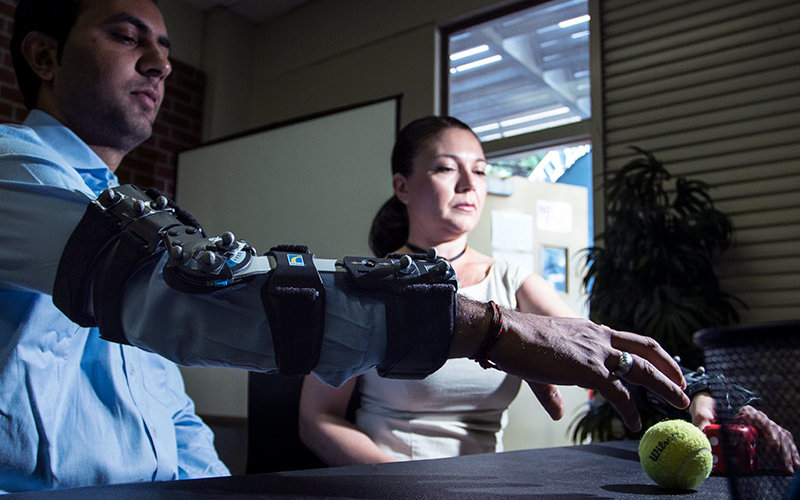 Known for her work in developing novel robotics technologies to assist people with neurological disorders, such as strokes and spinal cord injuries, mechanical engineer Nina Robson has been awarded a $500,000 Early CAREER Award from the National Science Foundation.
Robson, assistant professor of mechanical engineering, is the first woman in the College of Engineering and Computer Science to garner the Faculty Early Career Development Program (CAREER) award. She is the fifth faculty member at CSUF to receive the prestigious grant.
The CAREER award is given in support of early-career faculty members who have the potential to serve as academic role models in research and education, and to lead advances in the mission of their department or organization.
Robson's research interests include the areas of mechanism design, kinematics and robotics. Since joining CSUF in 2012, Robson has received numerous grants for her faculty-student research projects, including a national robotics initiative collaborative award on developing novel design methodology for multi-fingered robotic hands.
This new award supports her project, "CAREER: Robust Geometric Design of Mechanisms for Interaction with Uncertain Environments," which focuses on fundamental research to advance the design of mechanical systems.
"The research will lead to creating robust mechanisms that increase industry's ability to develop next-generation robotic systems, leading to improvements in health care, manufacturing and production, as well as augmenting technologies for the elderly and disabled," said Robson, director of the university's Human Interactive Robotics Lab.
"While the proposed new design techniques deal mainly with mechanisms that interact with physical environments, they can be directly applied in the modeling and design of mechanisms for interaction with virtual environments, or for human-robot and human-environment interactions," she added.
The framework is expected to be a general tool for the future robust modeling and creation of systems in other domains and environments, such as proteins within living systems, or very small- or very large-scale physical systems, Robson noted.  
Robson will involve undergraduates and graduate students in the project, engage female high school students through a robotics-themed summer program, expand collaboration with University of California research-driven labs, and develop activities to help underrepresented community college students transfer to four-year universities to earn an engineering degree. She also plans to create cross-disciplinary research-oriented courses for lower-division undergraduates.
She serves as faculty adviser for the Titan Rover student team, as well as for a number of other multidisciplinary student project teams working on developing and enhancing current technologies for industry partners. These include Disney Parks and Resorts, Bristol Industries, a manufacturer of aerospace technologies, and Edwards Lifesciences, a developer of artificial heart valves.