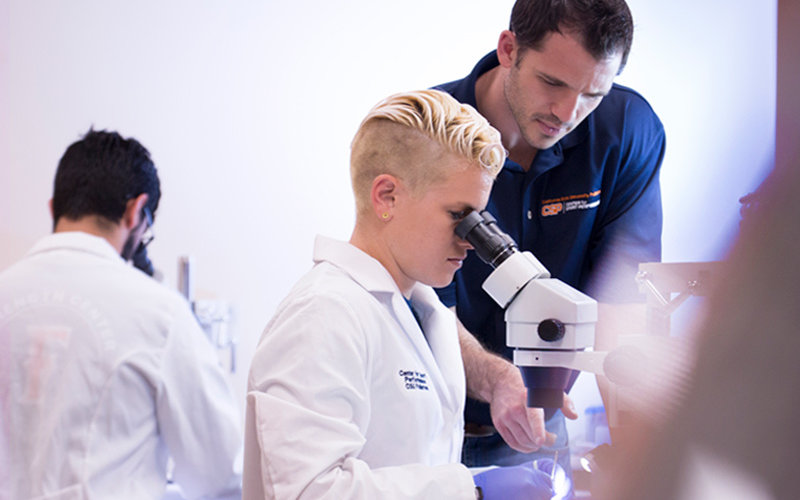 What changes occur in the muscles of a competitive weightlifter?
Student and faculty researchers in Cal State Fullerton's Center for Sport Performance have been exploring muscle cells of these athletes at the molecular level. Test subjects included competitors from last fall's International Weightlifting Federation World Championships in Anaheim and competitors from the 2016 Rio Olympics.
"Our goal was to analyze elite athletes and explore the changes that occur in their muscle mass — what makes them special, different from everyone else," explains Andrew Galpin, associate professor of kinesiology and co-director of the university center. "We use athletes as a model to understand why and how muscle grows, shrinks, dies and repairs.
"We're exploring the optimization of physicality, particularly in women athletes who are not often the subjects of studies looking at strength and fitness," says Galpin. "We know virtually nothing about muscle function in strong females. This has to change and could lead to much more effective training programs for female athletes, and, as a byproduct, better treatment prescriptions for non-athlete females.
"With all health studies, we're trying to understand how best to improve the human condition; so while most 'health'-related studies focus on treating and managing disease, we feel it's imperative to study the elite. How else do we know what to aim for? To understand how to optimize, we need to study those who are the best."
One of the students involved in the study with Galpin is graduate kinesiology student Nathan Serrano, who has been involved in weightlifting, both as a competitor and as a coach, for about six years. He entered Cal State Fullerton's master's program to work with Galpin, who suggested the weightlifting study as the basis of Serrano's thesis.
For the study on weightlifters, Galpin and the student researchers worked with 16 female and 10 male competitors. Tissue samples taken from the outer thigh muscle, vastus lateralis, were taken after the participants competed.
"This was a rare opportunity to work with a very high level of competitive athletes," says Serrano, who reached out to competitors about the study, scheduled biopsies and worked in the lab studying individual fibers.
"That muscle is critical to weightlifting performance and highly important for ambulation, catching yourself from a fall and general human function," notes Galpin.
"It was a lot of long hours in the lab, behind a microscope" but it was worth it, explains Serrano, who called it a "unique experience" to be working this closely with top competitors and conducting studies at the molecular level. "I don't know of any other program that does this type of research."
The experience "made me a much better leader, a better communicator," says Serrano. "I learned many new techniques and developed a really good skill set that I believe will help me in entering a Ph.D. program.
"There's still a lot of work to be done in this area," he adds. "I feel kind of a duty to continue this level of research, to advance it. The more people who are involved and the more labs that are conducting such research helps broaden the spectrum of knowledge."
Andrew Galpin, who joined Cal State Fullerton in fall 2011, has worked with Conor McGregor, a professional mixed martial artist and currently Ultimate Fighting Champion lightweight champion; 2016 Olympic Gold Medalist Helen Maroulis, the first American to win the gold medal in women's freestyle wrestling; and weightlifter Morghan King, who finished sixth in the 2016 Rio Olympics. Galpin holds a doctorate in human bioenergetics from Ball State University and has served as a strength and conditioning/performance coach for a variety of clients ranging from professional athletes to various clinical populations, including stroke victims.
More information about the Center for Sport Performance is available on the center website.