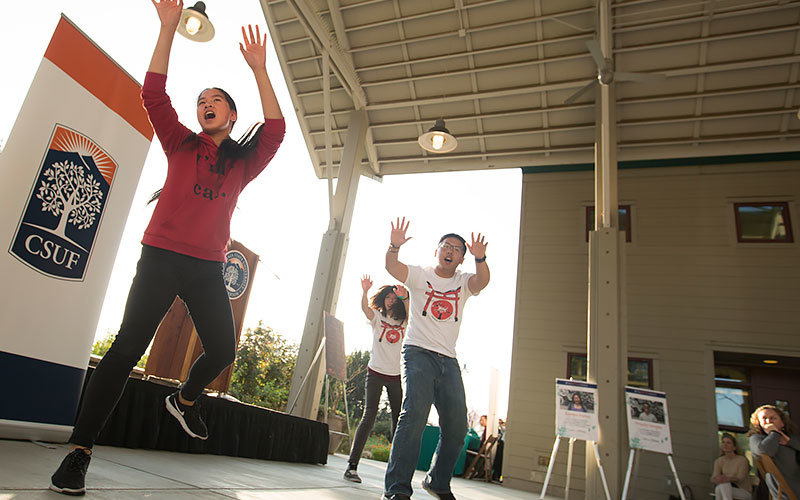 In Okinawa, where women live longer than anywhere else in the world, community is key, said mindfulness expert Charlotte Ái Nguyễn.
The wellness consultant and founder of Get Free! delivered a keynote message titled, "Joy Is Our Resistance: Becoming our Ancestors' Wildest Dreams" during Cal State Fullerton's president's reception for Asian Pacific Islander Desi American Heritage Month. The April 3 event was held at the Fullerton Arboretum.
"Science shows us that social interconnectedness leads to longevity," said Nguyễn. "We also know that isolation and lack of social ties are some of the hidden causes of heart disease, high mortality rates, depression and lower immunity.
"We don't survive alone. We survive in community," she continued, sharing how Okinawans stay active by keeping gardens filled with vegetables, herbs and spices; maintaining a deep dedication to their friends and families; and promising emotional and financial support to each other in times of need.
Nguyễn believes much can be learned from examining Asian ancestry, citing the 1963 Pulitzer Prize-winning photograph of Thich Quang Duc. Sacrificing his life in peaceful protest, the monk sat in complete stillness as his body became engulfed in flames.
"Our people used meditation and the power of breath to resist against their conditions and alleviate the suffering of the world," said Nguyễn, explaining that the Vietnamese Buddhists gave rise to the Engaged Mindfulness Movement, which uses meditation, self-inquiry and compassionate action to awaken change in response to colonization and other injustices.
She points to her own mother, who, after the fall of Saigon, left Vietnam on a small fishing boat. The harrowing journey — enduring seasickness and hunger, escaping pirates, witnessing human cruelty, and ultimately being placed in a refugee camp — was survived with prayer and faith.
"When my mother tells me these stories, there's no hint of bitterness in her voice," said Nguyễn. "There's just a calm acceptance that this is what her life has been."
Inspired by the struggles and resilience of her mother, Nguyễn devoted herself to working with nonprofits around the world focused on healing, transformation and social justice. Her consultancy, Get Free!, helps changemakers, activists, creatives and healers become emotionally healthy and inspired.
"I'm dreaming about a modern world that doesn't erase its ancestral intelligence, but rather embraces the creativity of our survival," she said. "This begins by imagining that our ancestors' belief systems are worth saving.
"It's been empowering to see a resurgence around self-care and wellness in recent years. This movement is saturated with ancient knowledge and health systems," continued Nguyễn, sharing that such practices as yoga, mindfulness, meditation, acupuncture, tai chi, feng shui, veganism and vegetarianism originated in Asia.
She also offered practices for coping, given the present political climate and multiple violences occurring in the world, including: "Cultivate a daily spiritual practice. Cultivate your creativity. Reconnect with your ancestors. Be ready for the challenges and whatever shadows may arise. Unlearn isolation and return to community."
Following the keynote address, U.S. Rep. Lou Correa '80 (B.A. economics) honored Cal State Fullerton's newly named Department of Asian American Studies.
"What the Asian American Studies Department is doing is so important," said the Titan alumnus who represents California's 46th congressional district. "You remind us who America truly is. It's a land of diversity and immigrants. It's also a land where democracy is strong, and where democracy has been created at a price."
The reception featured dance performances by the Japanese Culture Club and Pilipino American Student Association, as well as a presentation of Asian American Pacific Islander Faculty and Staff Association scholarships to students: Sara Divine (human services), Angelyn Garcia (communications-public relations), Krystel Guillen (child and adolescent development), Nhung Nguyen (communications-advertising) and Josie Xing (health science).
"We're here tonight to stand visible and united as one, peacefully resisting those who would disregard history or forget the history, struggles and resilience of the APIDA community," said CSUF President Fram Virjee. "That's our mission at Cal State Fullerton — to serve, celebrate and support all of our students; to be a voice for those who have not yet found their voice; and to give platform to those students who have found that voice."
Cal State Fullerton's celebration of APIDA Heritage Month continues through April and May. For more information, visit the APARC website or call 657-278-3742.