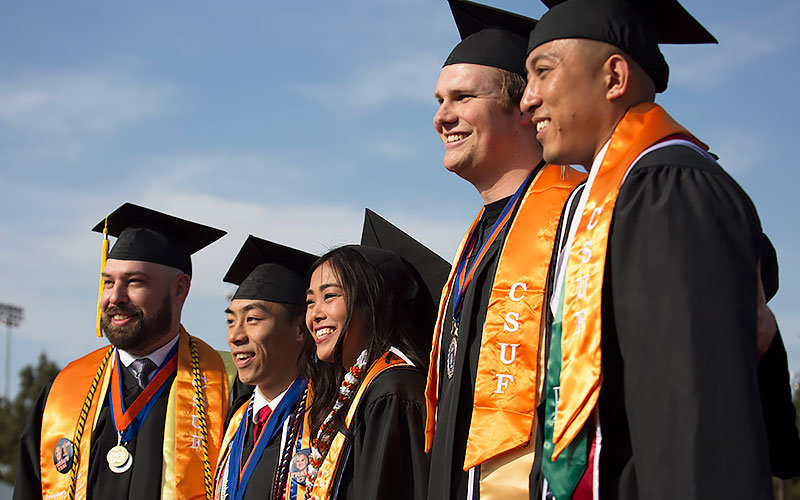 Nearly 12,000 graduates and candidates for graduation were eligible to walk across the stage this weekend in celebration of their achievement in earning a bachelor's, master's or doctoral degree.
President Fram Virjee welcomed the crowd at the all-university ceremony on Friday evening, acknowledging members of the graduating class for their hard work.
"You worked incredibly hard to get here," he said. "Your average high school GPA was nearly 3.7, which means you are very smart. More than half of you are the first in your family to graduate from college, but trust me, you will not be the last.
"As a first-generation college graduate myself, I can tell you that you not only changed your life with this degree, you changed the narrative of your family and their legacy and opened doors of opportunity to people who haven't even been born yet.
"Now, before you get too full of yourself, that doesn't make you the only family hero. In fact, the reason you are here at all is because of your family, which makes them the heroes. Graduates, look around this field. Those are your families cheering, hooting, laughing, smiling and crying.
"No, not because they are hoping you will finally move out of the house, but because they invested their lives, love and hard-earned money in you, and your achievement today marks one of the greatest returns on investment anyone can ever hope for: a quality education."
Virjee also noted that the Class of 2018 performed about half a million hours of community service this year.
"I know you will take that benevolent spirit out into your communities," he added.
"While every one of your journeys to this stage was wildly different, you are all connected by the challenges you faced and the Titan Spirit that propelled you past those challenges. In doing so, you blessed our world and this university with your unique gifts of intelligence and diversity — in all of its forms.
"We see diversity as our greatest strength. They are not a liability. They are an asset. Diversity benefits all of us."
Before turning over the microphone, Virjee took a moment to acknowledge the fact that eight graduates were missing Friday night.
"No, I'm not calling them out for ditching the university ceremony," he joked. "I'm calling them out because they are in Los Angeles right now, representing the Titans in the NCAA Division I softball playoffs as our back-to-back-to-back Big West Champions."
At this point, Virjee brought out his cell phone and took a video of the crowd cheering "Go Titans!" The video was sent to ESPN, where it's to be shown as part of the network's weekend broadcast of the games.
Keynote Speaker Receives Honorary Doctorate
Keynote speaker Earl Lewis, former president of the Andrew W. Mellon Foundation, now professor of history and African American and African studies at the University of Michigan as well as a noted social historian, was honored at the ceremony with an honorary doctor of humane letters, in recognition of his achievements and contributions to the educational community. This is the 18th honorary degree that Cal State Fullerton has bestowed in its 60-year history.
"Graduates, your job — deploying the discipline of mind that comes with the pursuit of knowledge for the betterment not only of yourself and your family, but also the greater society — is just beginning," said Lewis.
Lewis pointed out that Anthony Carnevale and his colleagues at Georgetown University's Center on Higher Education and the Workforce released a study about employment after the Great Recession. Carnevale and his team found that by 2015, of the 11.6 million jobs that had been created post-Great Recession, 8.4 million had gone to those with a bachelor's degree or higher; 3 million had gone to those with at least some college; and only 80,000 had gone to those with a high school degree or less.
"In 2017, Stanford researcher Raj Chetty entered the debate over whether college mattered, especially for first-generation students. Chetty found not only that college mattered, but that some colleges played an even larger role in aiding individuals and their families ride the upward mobility escalator," explained Lewis.
"What surprised many about his findings was that not one of the highly touted was an Ivy League school or one of the so-called potted ivies — those well-resourced private liberal arts colleges. Disproportionately, public institutions such as Cal State Fullerton predominated. Of the top 35 four-year colleges or universities that provided the best path for mobility, your soon-to-be alma mater ranked number 29.
"It reflects the commitment to a vision of opportunity born 60 years ago," he added. "It reflects the determination of two-plus generations of faculty who dedicated themselves to the art and science of teaching and learning. It is mirrored in the campus, its composition and achievements. With an undergraduate population nearly 42 percent Latino or Latina, you have already anticipated the nation's future.
"In words and deeds, you have come to understand that diversity, by the numbers, is not the same as inclusion and community building. By all indications, community is important to the success you have realized."
Lewis told Titans they would have to decide how to use their talents for the betterment of all. "The list of would-be causes is seemingly infinite — climate change, education, automation, opioid and other addictions. Racism still injures and kills, as do futile efforts to divide by language, ethnicity, religion and place of birth. Each is worthy of champions," he explained.
"… Your Fullerton education means you won't be satisfied with simple answers to complex problems. As a college graduate, you will be challenged to think about how to use your learning, talents and innovation to change industries and to improve lives. …
"If you remain faithful to this moment in time and faithful to your educational and individual values, you will have done more than earn a degree today. Years from now, you will have used your skills, talents and intellect for the benefit of all. Do well, graduates. And do good. Because you can."
Friday evening's festivities also included commencement ceremonies for the university's College of Education and College of Health and Human Development.
College of Health and Human Development
Dean Laurie Roades welcomed students, their families and friends for the ceremony celebrating the achievements of health science/public health, kinesiology and athletic training. "Earning a college degree is not an easy thing to do … [but] it is clear testimony to not only your intelligence but also to your ability to persevere. You stayed the course. … You were smart even before you came to this university; you leave ready to be professionals. 
"So, you have become part of our history and the legacy of this university," she added. 
Minhxuan Tran, graduating with a master of public health degree, spoke of how her journey began "40 years ago when my parents fled Vietnam seeking a safe haven." To her fellow graduates she said: "I am so humbled that my journey is now intertwined with yours. Just as the stars shine distinctively, they form a brillant gallaxy. So do we."
Erica Chavez, graduating with a bachelor's degree in human services, spoke to the crowd at Titan Stadium about how the major's required 360-plus hours of internship work allowed her to become an advocate for homeless families and children.
"I had no idea what a huge impact this major would have on me," she said. "This major makes you see the world differently. 
"This field does take a special kind of person, and you are that person," she told her classmates. "You are moral, empathetic and strong. I feel honored to graduate with so many selfless individuals."
College of Education
Inside a packed Titan Gym, the College of Education celebrated the graduation of almost 500 master's and doctoral students. The Class of 2018 has nearly 50 students who are earning a doctor of education in educational leadership (Ed.D.), with a specialization in community college leadership or preK-12 educational leadership this year.
Dean Lisa Kirtman welcomed family members and friends, noting they have "contributed to the success of these graduates through their support, encouragement, patience and understanding. So families and friends, we salute all of you — we know that these graduates could not have done it without your support."
Faculty Marshal Mark Ellis, professor of secondary education, who led the procession of students and faculty members into the commencement ceremony, gave the opening remarks, which focused on the teaching of math.
A mathematics educator who is driven by a belief that every young student has the potential to be successful in learning mathematics, challenged the graduates — teachers and future teachers — to "remove barriers, to open doors and to ignite minds."
"We need a new normal, and all of us here in this room have the responsibility to help construct a new vision for our students in mathematics," said Ellis, who during his talk examined the notion that some children are good at math, while others are not.
Ellis gave three messages to the graduates to embrace as they return to their classrooms and other educational settings: "All children are mathematical thinkers; teaching mathematics is about honoring students' ideas and identities, and about supporting their sensemaking within a community of learners;  and it's not that you're not good at math, but that you don't understand it yet."