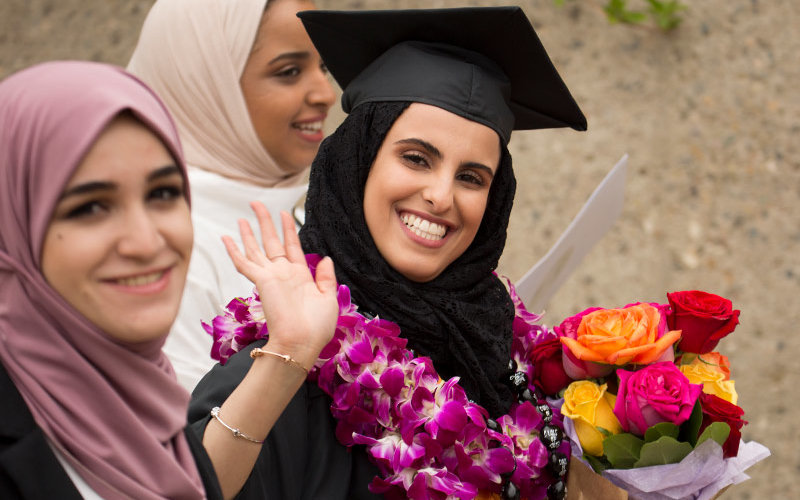 With the creative mastery expected of an artists' cohort, the College of the Arts' commencement ceremony included a student performance of "At the Back of the Holy Temple," the tenor and baritone duet from George Bizet's opera, "The Pearl Fishers," as well as certificates specially designed by Alex Kim, who is set to graduate from Cal State Fullerton with a B.F.A. in art-graphic design.
It was one of more than two dozen ceremonies spanning all departments in the eight colleges taking place this weekend at Cal State Fullerton, not counting the all-university ceremony held Friday evening. 
College of the Arts
"Our graduates today join a long-standing tradition of excellence and dedication to the arts," said College of the Arts Dean Dale A. Merrill at the college's Saturday morning ceremony. He asked graduates to thank attending families and friends for their encouragement, as well as the faculty and staff who helped them along the way and who "have been the catalysts of our students' creative and academic progress."
Erasmo Rodriguez, who is graduating with a B.A. in music-music education, was one of four student speakers addressing the crowd. Rodriguez emigrated from Mexico at the age of 14 and will pursue a teaching credential in the fall at Cal State Fullerton.
Growing up, Rodriguez saw music as his refuge. Now, he said, the "one thing that brings tears to my eyes [is] whenever I hear the story of anyone overcoming similar struggles of identity, affinity and the desire to share the passion of music with others."
"There is no question that my next step in life is to finish my schooling and continue to teach," he added. "I hope to not only be a good teacher but also, at the very least, create opportunities that would similarly inspire my students."
Mihaylo College of Business and Economics
Dean Morteza Rahmatian told the 2,700 graduates today that they join the 65,000 alumni from the Mihaylo College of Business and Economics.
"Every graduate has worked extremely hard in pursuit of a brighter tomorrow for yourself, our communities, the nation and the world," he said.
"Our alumni contribute greatly to the advancement of our community and the education of tomorrow's leaders. You, too, will be following their footsteps and we wish you tremendous success." 
Their work is not done; now they must motivate future Titans, he said.
"After you establish your career, share your success and milestones with us," he said. "Come back and see us. You will inspire a future graduate and show what it really means when we say 'Titans Reach Higher.' Reach higher and also reach out."
Katherine Gwaltney, a business administration graduate with a concentration in marketing, spoke to the crowd and encouraged her classmates to write their own syllabus for a future. The living document should include prerequisites like a strong work ethic, a willingness to "show up," goals to strive for, and grades or the ability to own your successes and acknowledge when improvement is needed.
"At the completion of those four parts, you create yourself a compass, even when you lose sense of your direction," she said.
Gwaltney praised Mohammad Habibi, assistant professor of marketing, for telling her: "One person, one conversation, or one moment is going to change your life.
"Many of the opportunities and mentors and people sitting out here in the audience changed mine, here at Cal State Fullerton," she said. "Take intelligent risks, and when you do, remember the Mihaylo family is here, rooting for you."
At Mihaylo's afternoon ceremony, the excited graduates were greeted with a plane towing a banner of congratulations, audience members holding signs that spelled out the names of new grads,  and cardboard images of loved ones who would soon be walking across the stage.
Guest speaker Dennis Kuhl, chairman of the Los Angeles Angels, shared with the graduates some of the lessons he's learned in the 48 years "since I was in your shoes."
Remember passion and perseverance, Kuhl stressed. "Passion drives perseverance, and perseverance drives passion. Always take another step and another, because with one step at a time you will meet and complete your goals.
"I have had the greatest journey ever, and you can have it too."
Rachel Herzog, student speaker, reminded her fellow business grads that "Graduation is truly remarkable, and all of you are amazing. Today you have the right to be proud … look at how far we've come; we've crossed the finish line."
Herzog then told the audience that she was going to take a huge risk but that "the greater the risk, the greater the reward." She then  took a deep breath and launched into a rap that received thunderous applause from her fellow graduates, finishing with "now we have a degree, and we'll be Titans for life." 
College of Natural Sciences and Mathematics
At the College of Natural Sciences and Mathematics ceremony, Dean Marie Johnson welcomed families and friends and announced to the Class of 2018 graduates: "Welcome to the finish line!"
With nearly 600 students earning bachelor's and master's degrees, Johnson noted this was the college's largest graduating class.
"We are scientists and mathematicians. We are curious by nature. We wonder why. We wash glassware and debug code and stare down microscopes knowing, on any given day, we might discover something wondrous," she said. "Something that for one moment, we are the only ones in the entire world to know. This possibility, this thrill of discovery, is why our faculty are committed to working side by side with our students in the lab and in the field and with computers."
The demanding work required of the college's students leads them to present their findings at conferences and co-author peer reviewed manuscripts, Johnson continued, and it leads to students winning dozens of honors and awards. She gave a few examples, such as Isabel Serrano, who will attend UC Berkeley's Ph.D. program in computational biology, and Stacy Guzman, a graduating biochemistry major who will start a Ph.D. program in biomedical studies at the University of Pennsylvania.
CSUF President Fram Virjee addressed the graduating class of students, jokingly saying, "Seriously, you're using math methods to identify atmospherically relevant compounds that influence climate change. You think that is hard? Or detecting the first gravitational waves from colliding neutron stars 130 million light years away? You think that's impressive?"
Johnson also told the graduates that they will face challenges both in their professional and personal lives. "Your Cal State Fullerton education has prepared you to tackle these challenges. Tackle these problems with your brain. And with your heart. Use your degree. And use your compassion."
College of Humanities and Social Sciences
At the College of Humanities and Social Sciences ceremony for English, comparative literature and linguistics, held in the Titan Gym, President Virjee congratulated students for their devotion to studying the art of language.
"I have some good news for you, graduates," said Virjee. "In my life, I've had three careers, working with everyone from Fortune 50 CEOs to corporate attorneys to scientists and educators. And I can tell you that every successful person in any career has one thing in common: They can read and write like nobody's business. With your topshelf education, you are poised to succeed."
Student speakers like Juan Carlos "J.C." Fermin '18 (B.A. English, comparative literature, philosophy) reminisced on how "every blood-curdling hour spent staring at an empty Word document, hoping for a full 10- to 12-page essay to blossom forth before the sunrise" led to today's achievements.
Hector Infante Ruiz '15 (B.A. English), who is earning his master's degree in English, encouraged fellow graduates to stay open to possibilities, to take on the challenge of improving the world and to never settle. "All our favorite writers … they were nonconformists," he said. "That's why we read them and why we love them so much."
Dianna Blake '15 (B.A. English), a graduating master's student in English who has benefited from the university's resources for student-parents, shared her nontraditional experience of beginning her first semester of graduate school the same week she gave birth to her fourth child.
"Please, love what you do. If you love what you do, you will not regret a day of work. And if you decide you no longer love it, consider finding something you do have a passion for," beseeched Blake. "Some of you may be thinking to yourself that it's too late to start again. I'm here as living proof that you don't have to be 18 to begin again.
"If you're breathing, you can pursue your passion."