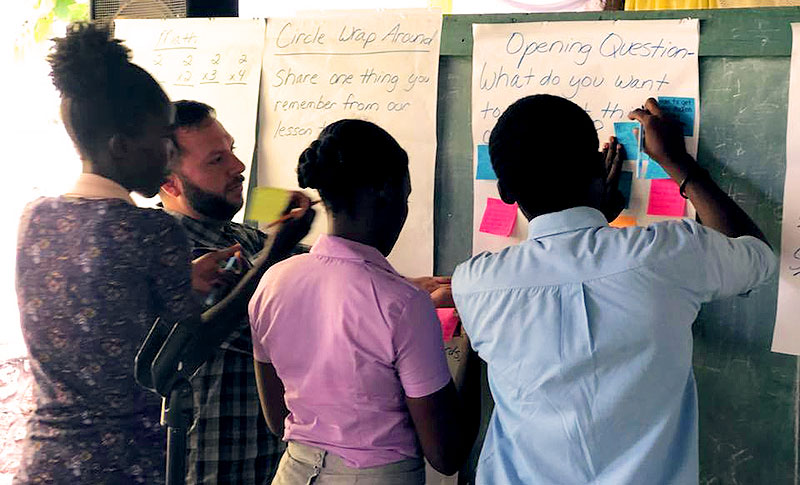 Cal State Fullerton teacher credential student Rick Montoya had the opportunity to gain teaching experience this spring by working in an impoverished school setting in Haiti.
Montoya honed his classroom skills to work with students who need extra support — and also led lessons for Haitian teachers who need guidance on classroom management and learning strategies.
"I learned that even though Haiti is much different from the way we live, there are many similarities in how we expect our students to learn and thrive," Montoya said. "We as teachers want the best for our students and we will do anything to get that end result."
Montoya, who completed the credential program this month that prepares teachers to work with students with mild to moderate disabilities and participated in the May 16 College of Education credential ceremony, was one of six future teachers who studied abroad in Haiti with faculty mentor Melinda R. Pierson, chair and professor of special education.
Pierson and the students organized a CSUF-Haiti teachers' conference, attended by 64 teachers from across the island country at Lekol Lespwa School in Port-au-Prince.
Haitian teachers worked in small groups with the CSUF teacher candidates, who led teacher training on such topics as literacy, classroom management, lesson planning and organization, and overall positive teaching strategies.  
"We also utilized this time to help the teachers brainstorm and share ideas on how they could implement new books and support positive behaviors in their own classrooms," said Montoya, who earned his bachelor's degree in child and adolescent development last year at CSUF.
Haiti is considered one of the least developed countries, where the literacy rate is less than 30 percent, said Pierson, who took education students to Haiti last year, and works with Haitian teachers once a month online to help them enhance their literacy and classroom management skills. Less than 30 percent of the children attend elementary school, and only about 10 percent of those students go on to secondary school, she added.
"Changing education and supporting teachers might just be the ticket to moving this impoverished country into one that isn't so poor," Pierson continued. "By giving our students the chance to put their teacher training to use, they are challenged on the strategies they have learned at CSUF and are forced to be extremely resourceful.
"Our students also learn to be grateful for the support systems that exist within California schools, and the materials and resources that are available to them for their own classrooms."
By studying abroad, Montoya agreed that he and his classmates experienced teaching through another perspective.
"Having the ability to see the world through another person's eyes helps us to have a more appreciative outlook in our own schools and lives. This experience instilled in me to strive harder in dealing with all of my students — no matter their needs."   
The other students who helped lead the Haiti teachers' conference are:
Savannah Caraway, child and adolescent development major
Bianca Converse, early childhood education specialist education credential 
Trista McDevitt-Dwyer and Steven Severance, moderate/severe education specialist credential
Gabby Chacon, mild/moderate education specialist credential
Janice Myck-Wayne, professor of special education and early childhood special education coordinator, also participated.