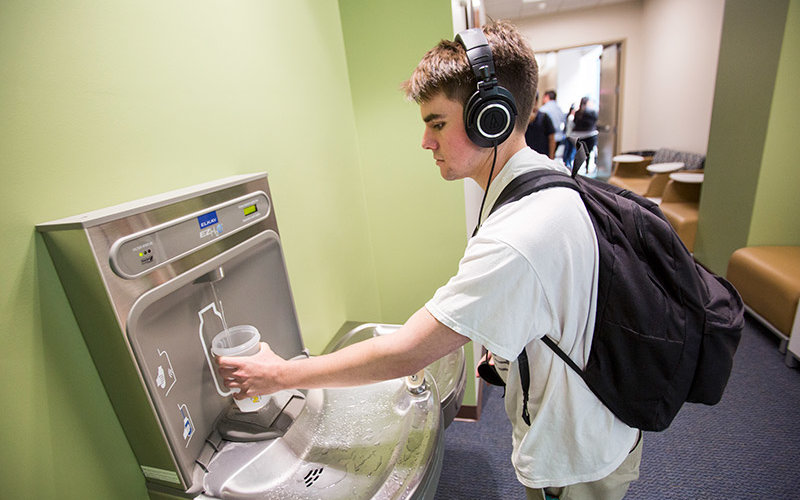 Cal State Fullerton has joined the Partnership for a Healthier America and made a three-year commitment to implement guidelines around food and nutrition, physical activity and wellness programming for students, faculty and staff. The announcement was made May 3 at the Building a Healthier Future Summit in Washington, D.C.
The Partnership for a Healthier America, supported by honorary chair and former First Lady Michelle Obama, includes more than 50 colleges and universities and touches more than 1.2 million students, faculty and staff across the United States.
"This is an important time in students' lives and it is often the first time that they are making their own choices about food and lifestyle. We want to help them make the right choices that will last them a lifetime," says Laura Chandler, assistant professor of health science. "Our goal is to make the campus a healthier environment for not only our students but our staff and faculty members."
As part of the partnerships, Cal State Fullerton has agreed to 23 guidelines, including
Providing healthier food and beverage services in campus-operated dining venues
Campus catering and vending options
Promoting water consumption on campus
Encouraging student physical activity/movement through increased access to facilities and programs on campus
Creating an environment that encourages active forms of transportation on campus, including access to walking and bicycle paths
 
"We have already organized a campus committee that includes members from all areas of the campus community, including students," adds Chandler. "This fall we will begin work on a strategic plan to accomplish these and other guidelines to help all of our students flourish."
Fullerton and Sacramento became the second and third California State University campuses to join the national effort. Cal State Fresno joined a year ago.