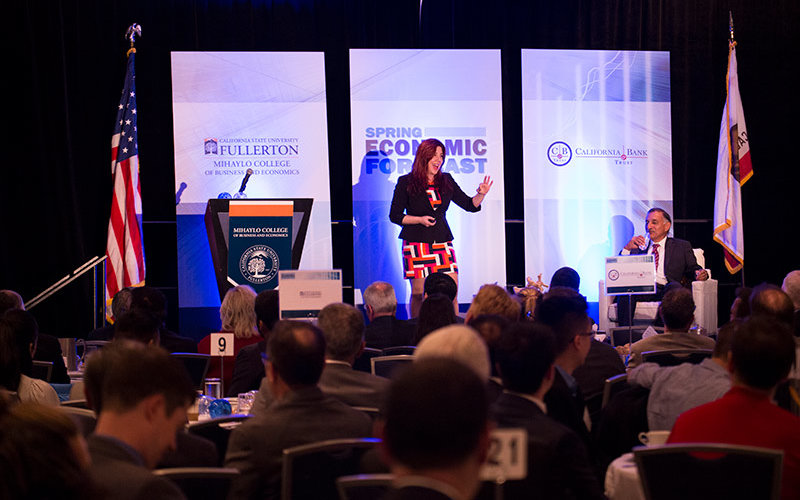 Cal State Fullerton economists Mira Farka and Anil Puri discussed the outlook for  the national and local economies during the May 3 spring economic forecast, "Melt-Up or Melt-Down: Prospects for Growth Amidst Growing Policy Risks."
"The economy is in the greatest shape it's been for a while," said Puri, director of the university's Woods Center for Economic Analysis and Forecasting.
In 2017, stock markets around the globe soared, inflation remained subdued and monetary policy continued to be accommodative across the world. The first quarter of this year, however, was a bit dour, at least early on, as retail sales slumped for the third straight month in February, vehicle sales plateaued and construction slowed.
"There is lots of turbulence these days [in the stock market," Puri emphasized. January achieved a high water mark but it's been "jittery because of inflation, trade concerns and the loss in tech market valuation."
"Our outlook for the economy is brighter but with some stormy pockets," said Farka, associate professor of economics and co-director of the Woods Center.  Still, "this is one of the most positive outlooks in years.
"If you look at it as a life span," said Farka, showing a bell curve graph, "we're a little over the top but we still have room to grow.
"This recovery is now the second longest in post-war era, second only to the 1990s expansion. There is a good chance this could best the 1990s and become the longest recovery," she said.
Farka pointed to several reasons for a continued positive outlook: sky-high business sentiment, job growth and a turnaround in labor force participation, strong consumer spending and increased household wealth.
Part of business optimism is because of the rolling back and slowing regulations and the recent passage of the tax bill, she noted.
While the "blow by blow" with China over tariffs has had an impact on the stock market, said Farka, "We think it won't end up in a trade war and see it as, at most, positioning or a tactical move. Both countries know it is not in their best interest [to have a trade war]."
The biggest risk, Puri and Farka both said, is monetary policy. "While we don't think the economy is overheating — at least not yet — things are certainly heating up," Farka explained. "When things heat up, that's when policy mistakes are made. Though we expect the Fed to hike rates at a measured pace, policy mistakes are not out of the question." 
Economic "recoveries don't die on their own," said Puri, adding, "there is no reason the recovery can't continue."
Key to continued growth, both economists added, is continued growth in productivity, jobs and real GDP.
"We're pretty optimistic," he stressed. 
The spring economic outlook and forecast is available on the Woods Center for Economic Analysis and Forecasting website.