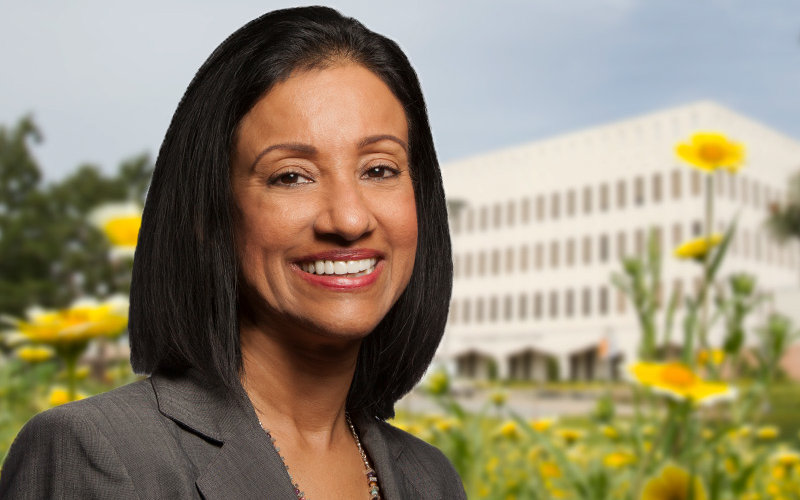 After a national search, Susamma "Susan" Barua has been appointed dean of the College of Engineering and Computer Science, effective June 1.
Associate dean since August 2008 and interim dean since July 2016, Barua led numerous initiatives to nurture diversity and inclusiveness, and drive student success. As the college's assessment officer, chair of the ECS Student Success Team and coordinator of the Computer Engineering Program for 11 years, Barua provided strong leadership in the areas of curriculum, engineering education reform, program performance reviews, accreditation and facilities use.
"Dr. Barua has provided strong and supportive leadership to the departments and programs in the College of Engineering and Computer Science for several years as an associate dean and interim dean," said Kari Knutson Miller, CSUF provost and vice president for academic affairs. "However, beyond her experience and expertise, she demonstrates integrity, a commitment to collaboration, a focus on student success, and a vision to transform the college to meet the future needs of our students," she continued. "I am confident that Dr. Barua is more than up to the task to tackle current and future challenges."
She transformed the summer orientation experience for incoming freshmen and transfer students through the integration of lab tours and the opportunity to interact with peers. She also launched new graduate student orientations and advising webinars for incoming undergraduate and graduate international students.
As interim dean, she engaged countless community and corporate partners in supporting student design projects, internships and employment.
A recipient of Outstanding Service and Outstanding Teacher/Scholar awards several times, Barua has secured numerous grants, most notably from the National Science Foundation and Department of Labor. She has authored a number of technical articles, supervised more than 130 student research projects, taught a wide variety of courses and actively mentored female and underrepresented students in computing for most of her career.
She also has a long record of university service, including participation on numerous high-level committees and the Academic Senate.
Barua holds a doctorate in computer engineering from the University of Cincinnati, a master's degree in electrical engineering from the University of Tulsa, Oklahoma, and a bachelor's degree in electrical engineering from Regional Engineering College in India.