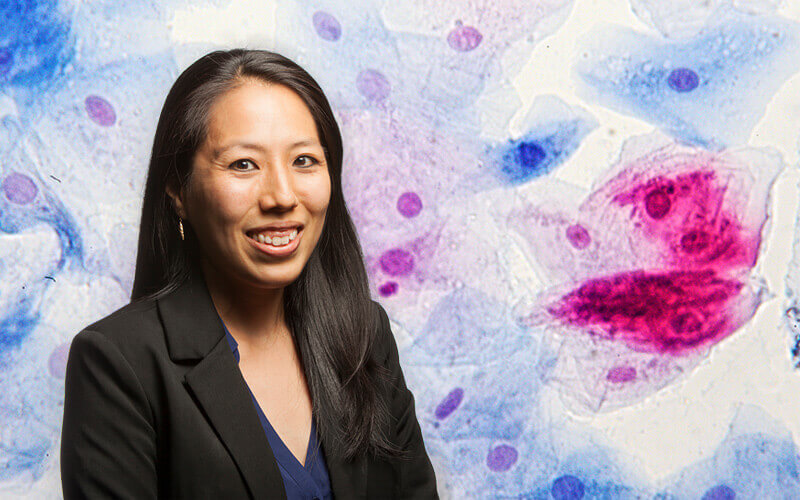 A Cal State Fullerton health science researcher is using large data sets in a study exploring the impact of infertility treatments and the risk of ovarian cancer.
Alice Lee, assistant professor of health science, will be analyzing infertility data from 14 epidemiologic studies, participating in the Ovarian Cancer Association Consortium. It will be the largest analysis of such data to date, she says.
"By review of these several studies, we'll be able to look at a range of factors, including the types of drugs used to stimulate ovulation in study participants," says Lee, whose work is supported by a $119,051 Rivkin Center for Ovarian Cancer grant.
"Ovarian cancer is rare but it is also the most fatal female gynecologic malignancy in the United States," notes Lee. "We know that women who have never given birth are at an increased risk of ovarian cancer, and this includes both infertile women who cannot have a baby, as well as fertile women who choose not to have a baby."
Lee's study will look at the various drugs used to treat infertility and the identified causes of infertility as factors that could impact the risk of ovarian cancer.
"Many individual studies have limited information on infertility and are usually 'underpowered,'" Lee explains, referring to working with a small number of participants.
Pooling the studies and looking at all the data that has been collected — especially with the standardized information on other ovarian cancer risk factors — will greatly increase the possibility of finding associations that would not have been apparent by looking at a smaller data set, she says.
"Collaborations such as the Ovarian Cancer Association Consortium are key to addressing these issues," says Lee. "This is a unique opportunity to delve further into this important research, which may offer clues to possible associations between treatments and this cancer. It could even validate or invalidate what other research studies have found.
"There are women out there who have a family history/increased risk of ovarian cancer, so for their ability to decide whether to go through infertility treatments, and which one best fits their circumstances, this type of information is vital."
Alice Lee has researched ovarian cancer for eight years, with much of her work focused on hormonal exposures such as birth control and postmenopausal hormone therapy. The scholar has a doctorate and master of public health in epidemiology from USC.