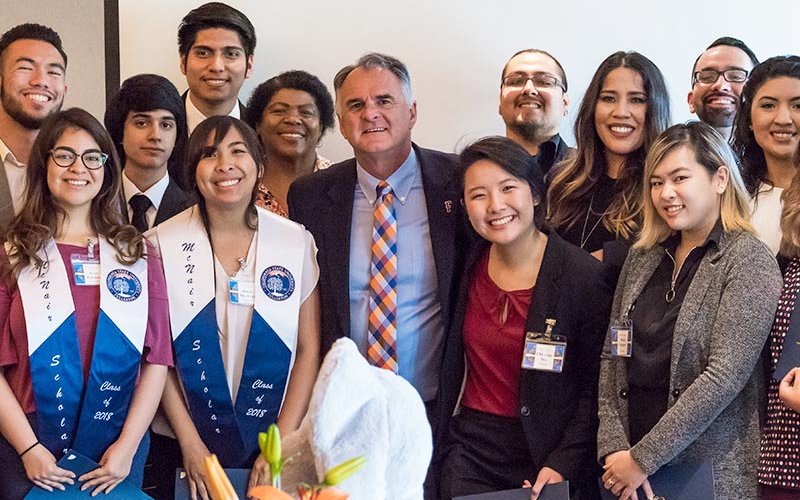 Jessica Guerrero first learned of Cal State Fullerton through GEAR UP. The program teaches local students in seventh grade through high school to develop strong academic habits and participate in college-readiness courses, including two-week summer courses at CSUF.
Until then, she had only dreamed of the university degree her parents said was so important. Becoming a McNair Scholar at CSUF made that dream a reality for Guerrero, a 2018 first-generation graduate.  
"I knew there were great opportunities ahead as a Titan. It was the best decision I ever made," said Guerrero, who, along with five others in the program, will now pursue advanced degrees or learning opportunities.
Cal State Fullerton's Ronald McNair Scholars Program is a federally funded effort to provide faculty mentors, graduate-level research internships, workshops and seminars — all focused on helping low-income, first-generation and underrepresented students prepare for transition to a master's degree or doctoral program.
McNair Scholar Mercy Tran-Dubongco of Norwalk, transferred to CSUF from community college. Her parents came to the United States as Vietnamese refugees and had long stressed that education was essential to her success in America. She is spending her summer conducting research at the University of Michigan where she will begin the doctoral program in developmental psychology in the fall.
"CSUF is a university full of opportunities for first-generation college students like myself," she said. "A college degree has not only expanded my career opportunities, but it provided me with the critical thinking and quantitative skills needed to become a stronger researcher. My professors reminded me that I do have a place in academia and constantly reminded me that they believed in my success."
Guerrero, of Anaheim, and Tran-Dubongco said the McNair program offered a family of like-minded students all in the pursuit of research and a graduate degree.
Guerrero also joined empowering campus groups, including Hermanas Unidas, that helped her build a support system with other Latina students. She also based her research in Latino communities.
"I had the opportunity to conduct original research under the guidance of my faculty mentor, Shweta Adur, assistant professor of women and gender studies. My research focused on migrant communities in the city of Santa Ana, drawing attention to the displacement of quinceañera businesses due to gentrification," she said.  
In the fall, Guerrero begins the master's program in public policy at UC Irvine. She wants to become a policy analyst or a university professor. "I feel prepared for graduate studies because of the various programs and numerous individuals at CSUF that supported my dreams."
Other members of the McNair graduating class are: