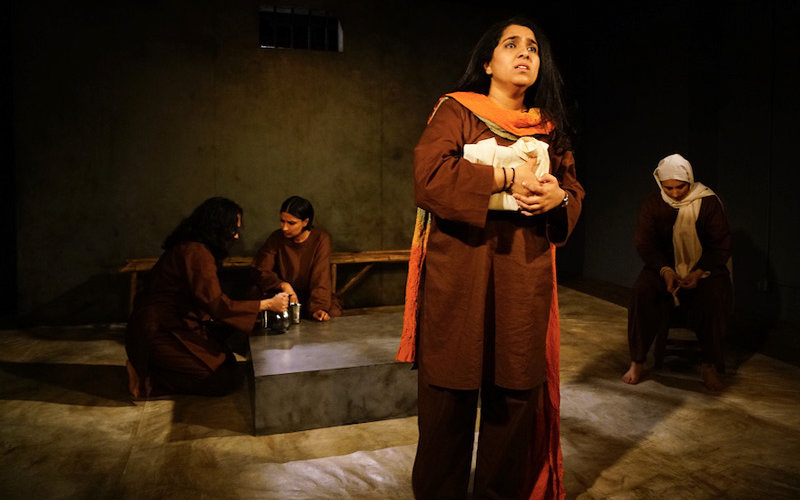 The exhibition "Cliff Cramp: Arts and Entertainment" reveals some of the professor of art's extensive body of work through Aug. 19 at the Great Park Gallery in the Palm Court Arts Complex in Irvine. The exhibition showcases a glimpse of Cramp's career as an illustrator and landscape painter in traditional and digital media, including some of his work for "Star Wars," "Stranger Things" and "Lord of the Rings," among others, as well as work by several CSUF alumni taught by Cramp.
Hyun Sook Kim, associate professor of theatre and dance, is getting noticed for her work again; this time by the Consortium of Asian American Theaters & Artists (CAATA). Her costume design for the play "Acquittal," will be presented at CAATA's ConFest 2018 in the National Asian American Theater Festival and Conference in Chicago's Victory Gardens Theatre.
"With the themes of discrimination and social injustice, I was glad to design for this show as a minority female designer to present diversity in the American Theatre," said the associate professor.
Tenzin Dorjee, associate professor of human communication studies, recently was unanimously selected by his fellow commissioners as chair of the U.S. Commission on International Religious Freedom. Dorjee was first appointed by House Democratic Leader Nancy Pelosi (D-Ca) in December 2016 and then reappointed to a second two-year term in May. The independent, bipartisan federal board is principally responsible for reviewing the facts and circumstances of violations of religious freedom internationally and making policy recommendations to the president, secretary of state and Congress.
Anthony Sparks, assistant professor of cinema and television arts, and an executive producer on the television drama "Queen Sugar," was on the May 30 Writers Guild of America Foundation panel "Inside the Writers Room," at the guild's Los Angeles headquarters. The panel was moderated by Dominic Patten, senior editor at "Deadline Hollywood" and Deadline.com.