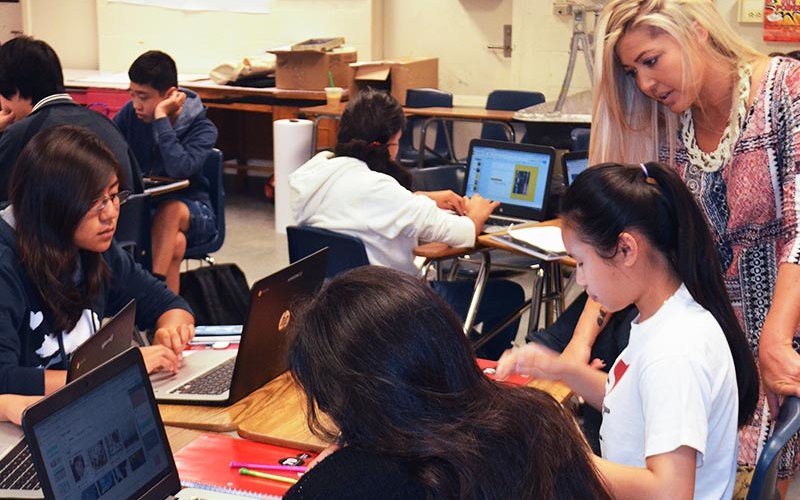 To meet the needs of high school students who are learning English as a second language and come from countries around the world, Cal State Fullerton's Summer Language Academy has expanded to other school districts.
The College of Education and Anaheim Union High School District partnered to create the first Summer Language Academy in Orange County in 2016, led by Fernando Rodríguez-Valls, associate professor of secondary education, who designed the curriculum with input from the district.
The four-week Summer Language Academy is a culturally and linguistically responsive teaching and learning program that was established to meet the needs of the growing numbers of teenage newcomers to this country who speak different languages.
"The curriculum was written to help students explore who they are — their language and culture — and how to become part of their new communities without having to give up their identity, and their socio-cultural and linguistic capital in a new country," Rodríguez-Valls said.
CSUF teacher credential students help co-teach the program alongside school district teachers and instructional assistants. The three educators co-plan and co-teach all the lessons.
"The biggest impact for CSUF students is having the opportunity to work in a program that differs from the regular school classroom," Rodríguez-Valls continued. "It's a place where teachers and students learn together to eliminate the barriers and challenges built by those who think that in order to become part of this country, you need to stop speaking your language and denying who you are."
In addition to the AUHSD program, which began this week, an academy also will be held in the Newport-Mesa Unified School District in July. Additionally, a pilot program is set for Escondido Union High School District this June. Last summer's AUHSD program had 88 participants from 17 different countries who speak 14 different languages — from Arabic and Korean to Pashto.
"We are expanding the program by request," Rodríguez-Valls said. "Our program is leading this effort to meet the needs of students who arrive to the U.S. with limited English skills."
Alison G. Dover, assistant professor of secondary education, has joined the initiative. "Her knowledge and expertise have enhanced the program to build safe and brave pathways for newcomer students," Rodríguez-Valls added.