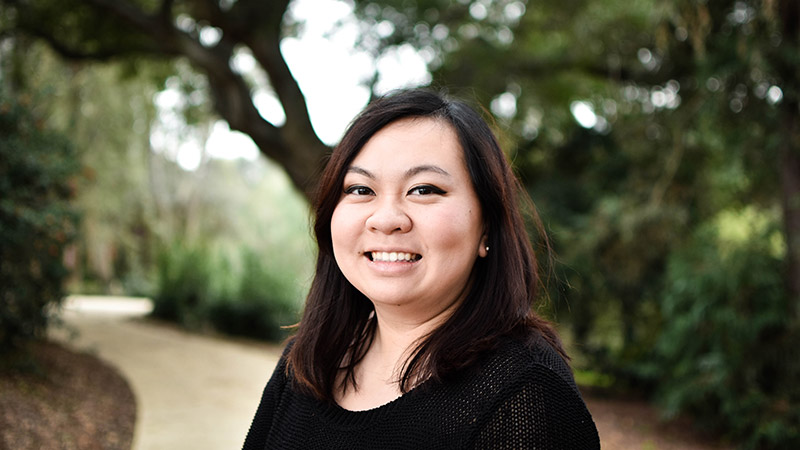 With curriculum vitaes pages deep with research presentations, publications in progress, teaching experience and accolades, four Cal State Fullerton graduates are continuing their educational journeys this fall with support from the Chancellor's Doctoral Incentive Program.
Established in 1987, the program aims to increase the pool of doctoral students applying for faculty positions in the California State University system by offering forgivable loans and mentorship.
At the University of Michigan, Mercy Tran-Dubongco '18 (B.A. psychology) will pursue two lines of research related to how parents, peers and media influence youth's ethnic-racial, gender and sexuality identities.
"A product of the outstanding research mentorship I received as an undergraduate student at CSUF, my goal as a future professor is to pay it forward by mentoring diverse first-generation college students like myself," said Dubongco.
With a bachelor's degree in English and a master's degree in nursing, Kate Bayhan '05, '10 is working on her third degree from Cal State Fullerton — a doctorate in nursing practice.
"Having my doctorate will fulfill a significant personal and professional goal," said Bayhan, who also is a lecturer in nursing at CSUF. "Not only will I have the capacity to make a meaningful impact in the dissemination of evidence-based practice, but I truly believe that earning my doctorate further empowers me as a nurse mentor and faculty member."
Ernesto Lopez '14, '18 (B.A. political science, B.A. public administration, M.P.A.), who focused his research on police structure and staffing during his time at Cal State Fullerton, is beginning a doctoral program in criminology and criminal justice at the University of Missouri-St. Louis.
"I have always had an interest in the criminal justice system," said Lopez. "The program at UMSL will allow me to develop my interests in criminal justice and governing crime; moreover, the small cohorts and mentorship from faculty will enable me to be a better professor in the future."
At UC Santa Barbara, Adrian Valadez '18 (M.S. psychology-clinical) looks forward to pursuing a doctorate in counseling psychology while remaining connected to the CSU system through the Chancellor's Doctoral Incentive Program.
"CDIP will be an invaluable resource for me while I complete my degree," said Valadez. "It is my hope that with my degree, I will eventually become a CSU faculty member so that I may continue to conduct social justice-oriented research and mentor passionate students within an educational system that has provided me with countless opportunities."