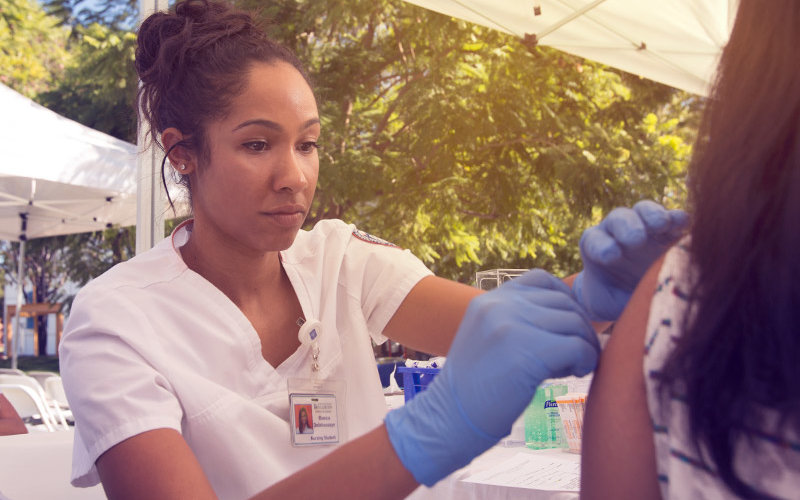 Two nursing programs that expand the range of career opportunities and increase workforce diversity have recently received second-year funding totalling more than $1 million in federal funding, and are just two of the programs and research projects that have received funding during the fourth quarter of the 2017-18 academic year.
Among the awards received during April 1 and June 30 of this year:
Ruth Mielke, associate professor of nursing: $698,795 in second-year funding from the U.S. Health Resources and Services Administration for the "Rural-Woman of the Mountain Accessing New Services (Rural-WOMANS)" program.
Dawn Macy, director of the Center for Internships and Community Service: Buena Park School District award of $591,733 for the "Titan ASES Buena Park" program; $15,101 from Project Access Resource Centers for the "Access Tutors 2018" project; and $13,875 from the Buena Park School District for the "Titan Tutors Program at Buena Park Junior High." Related article: College, Elementary Students Learn From Each Other in After-School Program.
Nina Robson, assistant professor of mechanical engineering: $500,000 National Science Foundation Early CAREER Award for "Robust Geometric Design of Mechanisms for Interaction With Uncertain Environments"  and $50,000 National Science Foundation award for "I-Corps: The Augmented Reality Wearable Device (ARWED) for Upper-Limb Rehabilitation."
Stephanie Vaughn, professor and director of the School of Nursing: $498,810 in second-year funding from the U.S. Health Resources and Services Administration for "EMBRACE: Enrichment Markers of Better Relationships, Academics and Cultural Enhancement" project.
Lori Palmerton, director of Disability Support Services: $132,035 California Department of Rehabilitation award for the "Workability IV" project. Related: WorkAbility Program Puts Students Alumni to Work.
Jocelyn Read, assistant professor of physics: $65,100 National Science Foundation grant for "Dense Matter and Gravitational Waves: The Coalescence of Neutron Star Binaries." 
Laura Gil-Trejo, director of the Social Science Research Center: $57,078 from the San Jose State University Mineta Transportation Institute Survey for "What Do Americans Think About Federal Tax Options to Support Transportation? Results From Year One of a National Survey" project. Gil-Trejo also received $53,625 from the City of Stanton for "Evaluation Services to Support AB 97 Activities" project and $26,394 from Harder+Company Community Research Inc. for the project "BRIDGE Housing Corp. Household Telephone Survey."
Nicholas Salzameda, associate professor of chemistry and biochemistry: $25,000 from the Allergan Foundation for "CSUF Research and Education in Drug Discovery Program."
Valbone Memeti, assistant professor of geological sciences: $16,947 U.S. Geological Survey award for "Geologic Mapping of the Jack Main Intrusive Complex in the Central Sierra Nevada, California."
Natalie Navar, archivist for the Lawrence B. de Graaf Center for Oral and Public History: $5,000 from the CSU Dominguez Hills Foundation for the "Japanese American Oral History Project." Related story: Oral Histories of Internment in the U.S. 
Roberto Soto, assistant professor of mathematics: $3,900 Mathematical Association of America award for "PRIME: Pursuing Research in Mathematical Endeavors."
Sheryl Fontaine, Dean of the College of Humanities and Social Sciences: $975 from Middle College High School for "Middle College HS Department Professional Development Program."