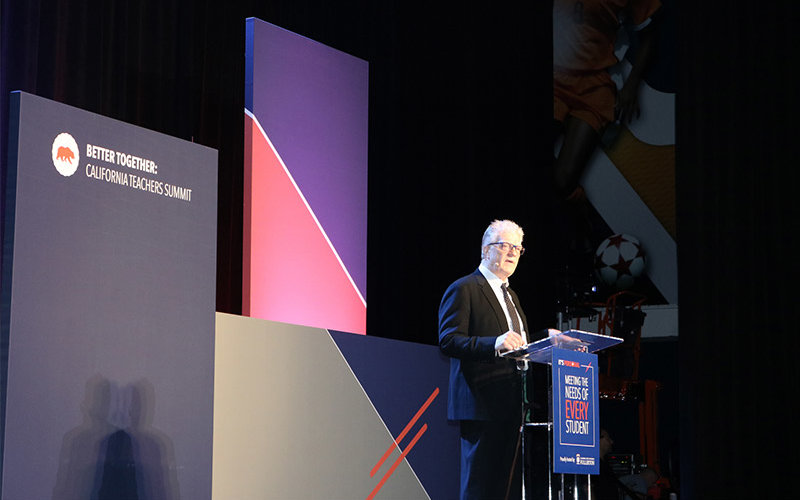 For mathematics teacher and Cal State Fullerton alumna Susanna Meza-Huynh, this summer's Better Together: California Teachers Summit was a chance to reconnect with peers and learn from each other.
"The summit gives teachers an opportunity to share their ideas and connects them with a professional network to personalize learning, both for themselves and their students," said Meza-Huynh, who teaches at Brookhurst Junior High School in Anaheim.
This year's theme for the fourth annual Teachers Summit on July 27 was "It's Personal: Meeting the Needs of Every Student," which focused on enabling teachers to personalize their learning by choosing their own professional development path and sharing different learning styles in their own classrooms. Thousands of pre-K-12 teachers gathered for a day of learning at 30 sites across California, including at CSUF, which served as the summit headquarters.
Meza-Huynh '11, '13 (B.A. mathematics-teaching mathematics, M.S. education-secondary education, single subject credential in mathematics) served as emcee at CSUF's program. She  welcomed more than 800 local teachers who attended the summit inside a packed Titan Gym.
"I feel more prepared so I can do my best as a first-year teacher." 

                                                          — CSUF Alumna Reina Salcedo
Internationally acclaimed expert on creativity and innovation Sir Ken Robinson delivered the keynote address about "Creative Schools: Revolutionizing Education from the Ground Up" from CSUF, which was livestreamed to all the sites across the state. Robinson's TED talk on developing an education system that nurtures creativity holds the illustrious title of "most popular TED talk of all time."
"By fostering creativity and innovation, we can personalize education, and ultimately, transform students' lives," Robinson said.
Following the keynote, Angelina Avila-Perez, a transitional kindergarten teacher, and math teacher Susie Min delivered TED-style EdTalks to share strategies they have used in their classrooms to engage and encourage student learning.
Both Min, who currently teaches at Oxford Academy in Cypress, and Meza-Huynh are master teacher fellows in CSUF's "Advancing Teachers of Mathematics to Advance Learning for All" project, funded by a nearly $3 million grant from the National Science Foundation.
Min told of a touching moment when one of her students got her first-ever "A" in math when she was teaching at Brookhurst Junior High: "It's a privilege to know I've made a difference in someone's life."
CSUF alumna and music teacher Reina Salcedo, who landed her first teaching position this school year in La Habra City School District, attended the summit for the first time. She plans to take the pointers, strategies and resources shared into her classroom.
"I got a lot of feedback from other teachers who gave me advice, such as to be flexible, communicate and to not be afraid to ask questions," said Salcedo '13 '14 (B.A. music-music education/choral, single subject credential in music). "I feel more prepared so I can do my best as a first-year teacher."
The California Teachers Summit is the result of a partnership between the California State University, the Association of Independent California Colleges and Universities and New Teacher Center.