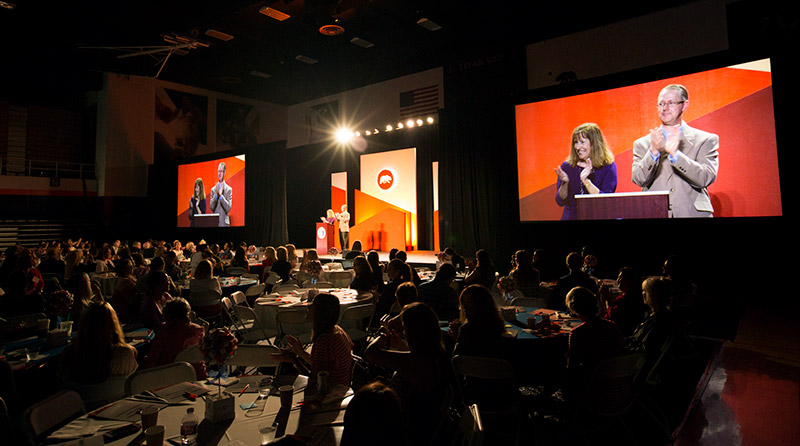 When Ryan Kile was in college at Cal State Fullerton, the headquarters for this summer's Better Together: California Teachers Summit, he walked past a campus flyer seeking math tutors at a local high school. Now, 13 years later, he considers becoming a math teacher one of the best decisions of his life.  
"I always joke with my kids that I really didn't like sitting in class and being a student," said Kile, who teaches at Anaheim High School. "So I've always been honest with my students and motivated to find better ways to help them understand the world."
His experience makes Kile all the more determined to hone his craft for his students and get them excited about learning. As an Edcamp facilitator at the Teachers Summit since its inception in 2014, Kile has seen the summit grow into a powerful and inspiring day of learning.
"Most of the time, as a teacher, you're in your own little bubble at your school site," Kile said. "So this was very cool because it included everybody — elementary teachers, high school teachers, all subjects mixed together."  
The fourth annual Teachers Summit is scheduled for Friday, July 27, at 31 sites across California, including at Cal State Fullerton. The free event is expected to draw pre-K-12 teachers, teacher candidates, school administrators and other educators. 
Kile, who earned his bachelor's degree in mathematics-teaching mathematics in 2005 and the following year completed the single subject credential program in math at CSUF, is especially impressed with the summit's Edcamp sessions — an open format that allows teachers to share their ideas and topics for conversation in an organic way.
Each year, the summit introduces a new theme. This year's theme, "It's Personal: Meeting the Needs of Every Student," hits close to home for Kile, who is always looking for creative ways to motivate his students based on their different learning styles and interests.  
"We're all unique learners," Kile said. "Personalizing learning is about giving students opportunities to learn in ways that build on their strengths."
As one example, Kile incorporates activities from Khan Academy into his curriculum, which allows students to do math problems or watch videos explaining the lessons online, rather than just copying notes from the whiteboard. While technology, including math software, is one strategy for personalizing learning, it should not be the only one. Kile offers his students a mix of interactive activities, such as getting students to move around and talk to each other in the classroom.
"There's no one-size-fits-all approach to education. You have to design opportunities for students to learn in a variety of ways," said Kile, a master teaching fellow in CSUF's $3-million grant project "Advancing Teachers of Mathematics to Advance Learning for All."
In addition to allowing the sharing of ideas and resources, the summit provides a great support system throughout the year.
"It's nice to have something that unifies us as teachers," Kile said. "When you're together, you feel like you're part of a bigger purpose, a bigger community, and it's great to have an opportunity to feel a sense of connection beyond your classroom."