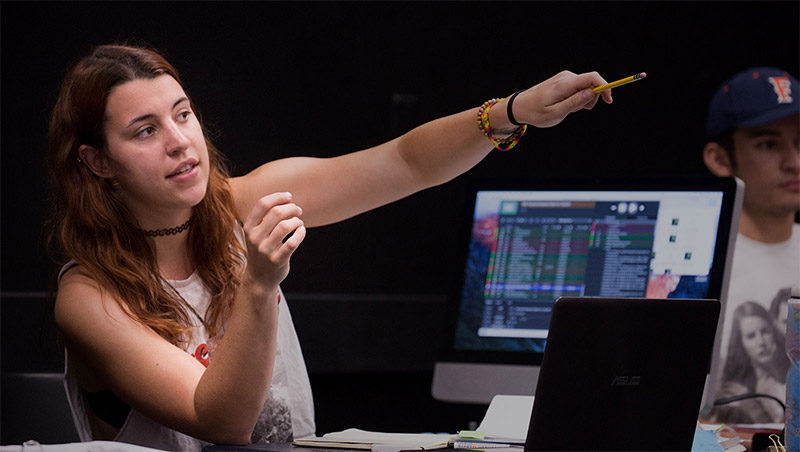 Cal State Fullerton alumni are coming back to campus to take part in the Friday, Aug. 24, Arts and Technology Forum at the Clayes Performing Arts Center.
The forum, organized by the College of the Arts, is bringing together professionals from the entertainment arts and technology fields to teach students about the growing range of in-demand career options available in entertainment technology.
"Theater is not just a person on stage performing Shakespeare," says Dave Mickey, chair and associate professor of theatre and dance. "There's an entire technical element to it that most people don't realize is there."
Computer science, art and engineering are becoming more intertwined in these burgeoning fields, he adds, as new tools are created to move entertainment technology forward.
"For example, to be a sound designer or to run sound nowadays, you need to know networking — you need that technology background to make the new equipment speak to each other."
The event kicks off with a 10 a.m. keynote address by Tim Runco '82 (B.A. political science), senior vice president of entertainment at Universal Studios Hollywood, who will discuss current trends, what's ahead in the growing field of themed entertainment, and why creative and technical skills matter.
An 11 a.m. Alumni Tech Talk will have professionals sharing their own college and career journeys. Panelists include Mari Cataldo '09 (B.A. theatre arts – technical production/design), technical director at Disney Parks Live Entertainment; Brandy Stiles '06 (B.A. theatre arts), production department manager at Blizzard Animation; Jennifer Szmurlo '06 (B.F.A. art-entertainment art/animation), technical artist at Blizzard Entertainment; and Eric Wenzel '07 (theatre arts-design and technical production), director of production design at the alumni-created technical production company Brite Ideas. The panel will be moderated by Chuck P. Davis, principal technical director, Disney Parks Live Entertainment.
All the companies listed above and others will be part of Industry Connections and Demonstrations at 12:30 p.m., where students will get the chance to learn about career options and internship opportunities via info booths and product demos. Visual artists from the Art Department will share virtual reality experiences.
All majors are welcome. Advance registration for students is $5. More information is available online.