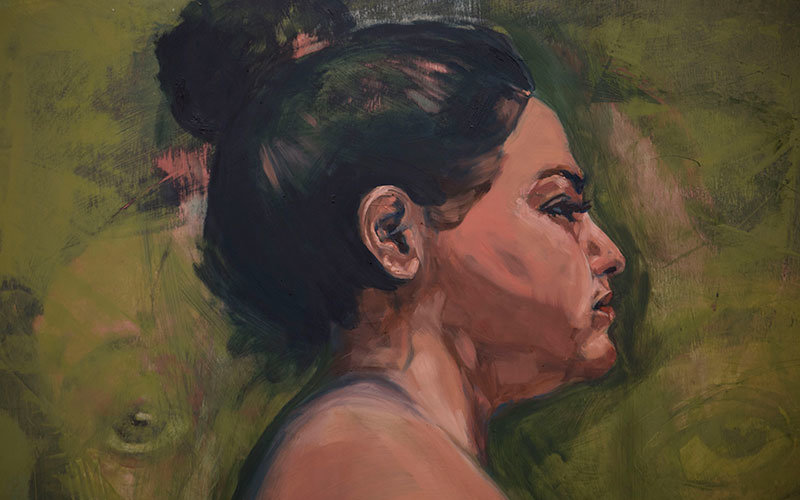 Perched on a ladder in one of the larger classrooms of the art building dubbed "D," Niccole Ugay is attempting to tack a 15-foot-tall art piece on a wall for a group critique, the culmination of her graduate seminar. As she struggles to keep her work up, she recites particulars she'd like to address soon: Could use more variation. Have to work on tone. Need to revisit color.
Ugay is trying to be "as exploratory as possible" with her art pieces, an approach that has proved cathartic. 
 "I tend to be a little bit on the more cerebral side, but I'm very open to seeing if something works or doesn't work," she says. "These days I'm painting onto a surface, laying on top of it, driving over it. I'm having a little fun and finding my own place in my work."
The graduate student was working with fashion graphics and textiles before choosing Cal State Fullerton to pursue a master of fine arts degree, focusing on painting and drawing.
"I liked the idea that the painting and drawing program was a bit on the smaller side because I could get more focused attention," says Ugay, who is teaching a life drawing class on campus as part of her graduate work. "I did some research and knew that the professors at Cal State Fullerton would help me elevate my skill set — and the fact that they give us the opportunity to teach is huge because we're in the mix of it. We're not just being taught; we're passing along that information almost immediately to our students."
The "crit" goes well, and Ugay gets solid feedback. She'll revisit the 8-foot self-portrait by using her trusty rotary sander on the oil paint and perhaps add more motion to it. The reworked 15-footer also got a positive reaction. "The legs and hands are now collaged on. The face is made up of parts of other paintings I've done in the past.
"Professor Kyung Cho really responded to my new approach," she adds. "I got great responses to the texture, the 'jumbled-ness' of it all."
"Edgardo," from alumna Gabriela Castillo's knit series.
Ugay will soon join a steady stream of CSUF alumni — Fred Tomaselli, Chris Gwaltney, Jennifer Celio, Gabriela Castillo and Tom LaDuke among them — whose skills have confirmed the reputation of its drawing and painting program's deliberate strategy of transcending the cookie-cutter norm in traditional training.
"Curricula in other universities may be divided along notions that people who have technical or skill-based facility somehow don't have interesting ideas or concepts to offer, or vice versa," says Jade Jewett, chair and professor of art. "But our program is structured differently — people move back and forth. We have such a strong balance between technical and conceptual skill-building. That's a hard balance to find.
"Our students and faculty move fluidly between figuration and abstraction," she adds, "and you can see this range in our graduates. We have all these accomplished alums, these 'quiet secrets.'"
Balance on the Canvas 
The diversity of instruction has always been core to the painting and drawing program at Cal State Fullerton. Chris Gwaltney '85, '87 (B.A. art, M.F.A. art-drawing, painting and printmaking), who studied under some of the program's early supporters, points out that the range of expertise dates back decades.
"Back then you had Don Lagerberg, who was more of an illustrative artist. Then you had Tom Holste, who was terminally hip — almost fatally so," he says. "I loved him and argued with him all the time. Leo Robinson was so straightforward — a figurative painter that kind of told a story."
Joachim Smith, who started teaching at Cal State Fullerton in 1962, "would find a dead bird and bring it in. And everyone had to the draw the dead bird."
But to this day, Gwaltney remembers "the pride in the figurative. That goes right to Lagerberg. He just felt that it was massively important that part of the curriculum start with life drawing."
"As you look at the Southern California landscape right now, there tend to be programs that are very rigorous in terms of theoretically or conceptually minded teaching, and others that are based on form and technique — teaching you how to make objects," explains Rebecca Campbell, assistant professor of art. "The most unique thing about our program is that we focus on both."
The mix of ideas and approaches is a boon to students the moment they start their coursework. Professors in the foundations classes begin to prep students on the process of exhibiting, critiquing and putting value to their work.
"I always took advantage of having access to the main drawing and painting room after hours," says alumna Castillo '14 (B.F.A. art-painting and drawing), whose work recently graced the cover of Artillery magazine. "I miss those long nights painting before a crit."
Other influences come in as undergraduates collaborate with each other and with graduate students on group exhibitions.
"Many students are encouraged to show their work in one-, two- and three-person shows in the Exit Gallery. That's where all these skills come forward. It follows one, two, three years of painting practice," says Jewett. For their capstone projects, seniors build a portfolio of work and exhibit on campus.
Yara Almouradi traversed this rigorous process herself, graduating in 2015 with a B.F.A. in art with an emphasis in drawing and painting. The graduate student mentions Professor Joe Forkan as a primary influence. "His method of teaching and his personal style, whether it's figure painting or figure drawing or plein air, really influenced the way I view the figure and look at color theory. If I'm working on something, I hear his lecture and think, 'Get out of my head!'"
Like Ugay, Almouradi is teaching a beginning drawing class at CSUF. She also is using her technical and teaching skills to help underserved populations through Sight and Sketches, a nonprofit she founded with her sister. The siblings have recently focused on assisting Syrian refugees. Her sister, an optometrist, provides eye and vision care while Almouradi guides them on "self-expression through painting and drawing as they process their emotions — getting them to talk through an artistic venue."
Almouradi, who is pursuing an M.F.A. at CSUF, also points to the benefit of being part of a program that facilitates "open-ended conversations, as well as the hyper-focused, critical, analytical perspective. The faculty are very open to letting students work through different concepts in a variety of mediums. The program is not rigid."
 "We're all very different artists but we have a lot of crossover in terms of how we think about art and priorities," says Campbell. "We're training students in traditional concepts of how to draw the figure, how to make a painting, how to compose or work with color. At the same time, we're keeping them up to date with theoretical ideas about art, painting and drawing, and also social issues — how you talk about and think about your work in the context of a contemporary conversation."