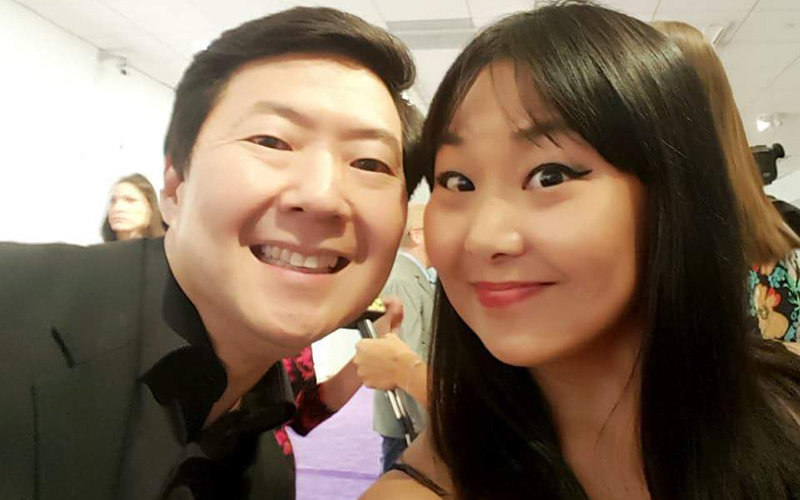 Today's wide release of the new film "Crazy Rich Asians" offers a shoutout to Cal State Fullerton.
In a scene featuring actor Ken Jeong when his character meets his daughter's friend, he pretends to have limited ability to speak English. After stammering a few words, he says he was just kidding. Then, in perfect English, he reveals that he studied in America, at Cal State Fullerton.
Reports of filmgoers cheering at screenings during that scene have been shared on social media. CSUF Class of 2006 graduate Laura Sirikul was one of those enthusiastic audience members.
An entertainment writer for Nerds of Color, Sirikul first saw the film in April at an Asian influencer screening. She caught up with Jeong two weeks ago at a "Crazy Rich Asians" Asian AF comedy  event, where she asked him about that scene. The alumna wanted to know how her alma mater had been included in the script for a film she regards as "a huge moment for us Asians."
The Los Angeles-based actor shared with her that he had improvised that part of the dialogue. "It came off the top of my head," she recalls him saying. "You have no idea how many Cal State Fullerton people will be very excited about this," she told Jeong. 
"I screamed when I first heard that in the scene. … I've seen the movie five times, and I scream every time," Sirikul said. "I have so much pride in Cal State Fullerton."
When she graduated in 2006 with a bachelor of science degree in health science, she was one of the top student honorees at commencement, receiving the President's Associates Service Award. She is also one of three siblings who have earned CSUF degrees. Her brother works on campus in Student Affairs, and her sister is an attorney based in San Francisco. "We are a family of Titans."
Sharing Sirikul's enthusiasm for the Cal State Fullerton cameo in "Crazy Rich Asians" is Christina Chin, CSUF assistant professor of sociology.
"It was an added delight to the film," said Chin, who last year co-authored a study about the lack of representation of Asians on the small screen.
Chin came away from a prescreening thinking about how well the film speaks to second-generation Asian Americans. Commenting on that for the Washington Post, she also noted that the romantic comedy goes beyond images of money and wealth, highlighting universal themes about love, friendship and negotiating family dynamics "that transcend ethnic and racial boundaries."