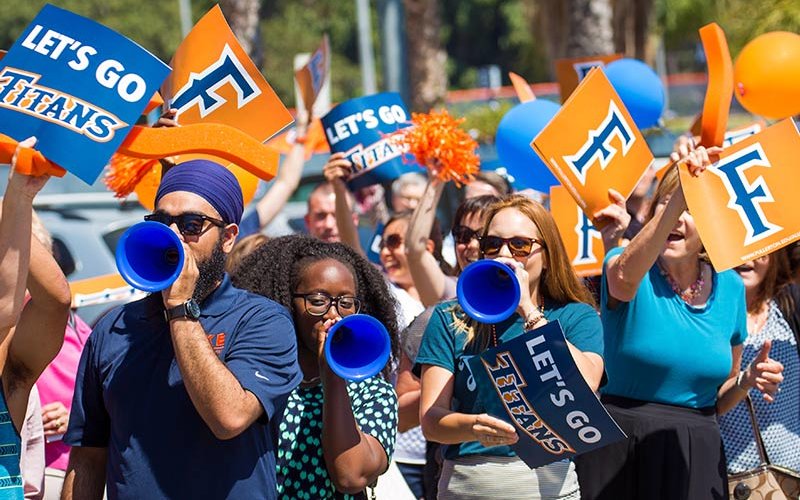 Cal State Fullerton is #MyTopCollege.
CSUF was named the top campus in the large-school division in the national Forbes' 2018 #MyTopCollege social media challenge. The campus also had the most social posts, finishing No. 1 overall in the nation.
This is the fifth year the university has won the competition. In 2014, the competition's inaugural year, CSUF was the top university in the nation. Last year, and in 2016, as well as 2015, CSUF won the large-school division. 
"California State University, Fullerton won the large-school category and had the most posts of any school contest-wide. Fullerton had nearly 600 posts with 200 posted within the last 24 hours. CSUF completely annihilated the competition," Forbes wrote in its story about the 2018 winners.
"The zeal with which the Titan community celebrated our university during this competition shows the depth of pride and love people have for this place," said Jeffrey D. Cook, chief communications officer. "Taking the top spot for the fifth year in a row on one hand is amazing, but is it really any surprise? We are ranked as a top national university, and we are eager to tell the world our story." 
CSU campuses had strong showings in this year's competition. Cal State Long Beach finished second overall, while Northridge, Chico and Fresno finished seventh, eighth and ninth, respectively. The race between Long Beach and Fullerton was close throughout the competition, with CSUF finishing with 100 more entries than its cross-town rival.
"The real winners in this competition are the hundreds of students, faculty, staff, alumni and parents who participated and shared why they believe their university is #MyTopCollege," said Michael Mahi, director of online and social media engagement. "It truly is amazing to read all the heartfelt posts about the love for this campus."
The annual social media competition, which started June 18, featured more than 2,000 unique submissions from Twitter and Instagram highlighting school spirit and passion from students, alumni, faculty and staff from universities nationwide. 
The successful Titan effort benefited from an influx of postings on CSUF social media sites, as well as the enthusiastic participation of the university's college and department-based social media coordinators. During the campaign, hundreds of postings were curated into a Wakelet blog to help share the messages of Titan Pride.
Each week Forbes had a different theme — from students' first-year experience to friendships made in college to how professors shaped students' lives. A few highlights from the eight-week competition:
  @csuf is #MyTopCollege because my involvement as a student leader brought me these wonderful lifelong friends. #titansreachhigher @ForbesEDU @csufalumni
@csuf has impacted my life because when I re-entered and thought I could never finish my degree I had great professors, mentors and friends who believed in me. Here I am now only two semesters left before graduation! This is why #CSUF is #MyTopCollege
I couldn't love @csuf more. This school gave me more lessons and opportunities that I wish I could do it again just to pursue them all. #mytopcollege
@csuf is #MyTopCollege because it gave me the opportunity to grow personally from my fraternity @SigmaPi_CSUF and be humbled with my involvement in a non-profit organization @TitanTHON.
 
Being at @csuf for 7 years felt like home. I received a quality education and made lifelong friendships there. And working for @thedailytitan was pretty awesome. On top of that, I came out prepared for the real world. This is why #CSUF is #MyTopCollege
#MyTopCollege is @csuf, because it helped me to find my true passion by providing me with multiple opportunities to give back to my community. I look forward to joining the long list of Titans in public service!