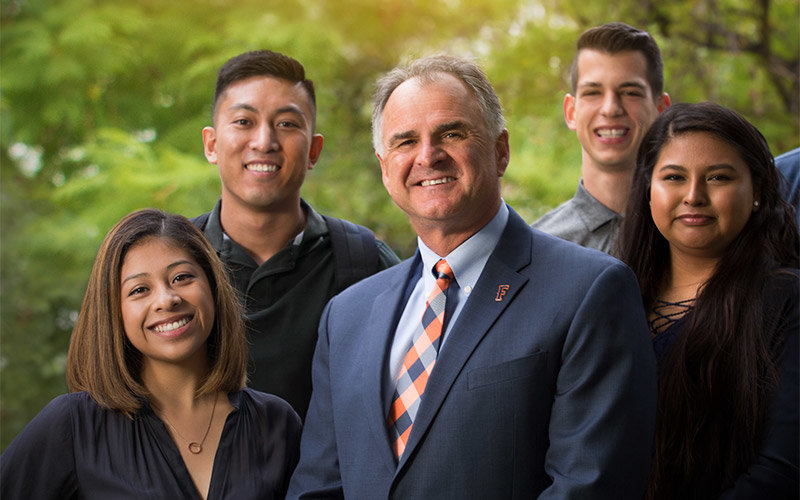 Early on a Saturday morning, Fram Virjee is rushing off from his morning swim to Mihaylo Hall to encourage a few hundred high school students to go to college — and to keep Cal State Fullerton at the top of their list when it's time to choose. Then it's off to a banquet honoring teachers — many of them CSUF alumni — at the Titan Student Union. Afterward, he's sprinting to Meng Concert Hall for a School of Music concert. The last stop of the day is the Titan Gym, where the men's basketball team wins a spot in the NCAA Tournament.
It's an exhausting day for most, but Virjee loves every minute. That's because a great day for the president of Cal State Fullerton is when he's out and about — "walking, talking, meeting students. Listening. Basking in the greatness of what it is to be on campus," he says. "Because everything that we do at this university, we do with an eye toward what's best for our students."
It's the grit and drive of Cal State Fullerton's more than 40,000 students, in fact, that inspired Virjee and his wife, Julie, to adjust their plans and make Orange County their new home.
"From the start, Fram has been an energetic leader, partner and advocate for our mission," says Steve Stambough, professor of political science and immediate past chair of the Academic Senate. "His comments at a recent Academic Senate meeting about the importance of faculty directing such a significant part of the curriculum for our students' success was passionate, detailed and well-received. That is a testament to someone who hit the ground running as president."
Detour to Fullerton
Virjee's fortuitous stop at Cal State Fullerton was decades in the making, but not quite where he imagined he would be in 2018. He spent 30 years as a top labor and employment attorney at O'Melveny & Myers, the oldest law firm in Los Angeles and one of the largest in the country.
In 2014, upon request from Chancellor Timothy White, Virjee joined the California State University as executive vice chancellor and general counsel, also serving as secretary to the system's board of trustees … but it took some doing. He and his wife were set to move to Rwanda to run their nonprofit organization Yambi Rwanda, which seeks to help overcome poverty and the trauma of genocide through education and opportunity.
Visiting the African nation, says Virjee, was "transformative."
"Going to a nation of abject poverty and realizing that their main goal in life is education because it's the most obvious and, in many ways, the only way up out of poverty, you realize and recognize the importance of education. That informs me, at least on the importance of it here."
Virjee spent the first six years of his life traveling around the world on a ship captained by his father. "My dad was from India. My mom was from Sweden. My parents read the international papers. As a result of who my parents were, I grew up believing very strongly in social justice, social mobility and civil rights. We knew about the world.
"I always wanted to travel. Travel provides a unique opportunity for our students to learn a worldview."
His wife can attest to how his passion for education, diversity and social justice make him the right person to be president of Cal State Fullerton, a position he accepted in December upon Mildred García's departure from the university to head the American Association of State Colleges and Universities.
"He has a love for people, an appreciation for each one of us, a belief that everyone brings something to the table that can make all of us greater and more whole. He doesn't see people for their risk or potential weakness; he sees them for their strength and potential greatness — and he wants to help them tap into that greatness," says Julie Virjee. "Social justice is very important to him. He feels that each of us deserves the best, and he wants to help us get there."
The Road Ahead
Leading the largest campus in the CSU is no small feat, but years of representing educational institutions, including the Los Angeles Unified School District, armed Virjee with the skills and passion to take on the challenge.
"Creativity says that there is an answer; flexibility says that there is more than one answer. Fram's leadership style is a refined blend of both creativity and flexibility that is centered on student success, diversity and excellence," says Berenecea Johnson Eanes, vice president for student affairs. "As we move forward together, I am excited for this chapter at Cal State Fullerton."
Virjee is passionate about "leveraging the diversity of the campus — and the nation — to lift each other up and find solutions to issues. The only way you're going to come up with good ideas is to listen to differing viewpoints," he professes. "That's the strength of diversity."
It is that strength that he hopes advocates of access to higher education put to good use to face students' challenges, one of which is the cost of college. As he points out, 58 percent of Cal State Fullerton's bachelor's degree recipients are the first in their family to graduate from college. Many, he adds, were not sure how to get to college.
"Mom and dad, aunts and uncles, grandmas and grandpas worked hard so these students could get here," says Virjee, a first-generation college graduate. "They have the added pressure of not only performing in college, which can be hard to do, but knowing that they are the symbol for their family of socioeconomic mobility. Their success is not just theirs — a success of their future families — but of everything that has happened before them. Their success demonstrates the worth of what their family has done and the sacrifices they have made."
When Virjee is doing what he loves — engaging students in conversation, "sticking my nose in" their chats — he typically gets effusive responses about their fellow Titans, their friends and the communities that they're building.
"But when they talk about the faculty, their eyes sparkle. They will choose one or two professors and they will tell me how they mentored them, how they saved their lives," he shares. "In the three months I have been here, I've probably heard this 50 times or more: 'This professor saved my life.' And they will tell you how faculty don't just care whether they pass their class, but the direction they are taking in life and where they're going to go. They care about whether they have a place to sleep, food to eat, whether they feel like they're fitting in."
A supporter of transparency in process and faculty empowerment, Virjee hopes to build upon the university's reputation and calls on Titans of all ages, and on the community, to advocate for the institution.
"We have great momentum. We are doing a magnificent job of educating students with the resources that we have. But many of our challenges are finance-driven. We need more space. We need to upgrade our learning environments," he explains.
"We have to focus on Sacramento. We have to find a better way of sharing our value proposition — of not just demonstrating our worth, but publicizing all the amazing things that are taking place at Cal State Fullerton. We have to reach out to our communities, our alumni, our chambers of commerce, cities and counties filled with CSU and CSUF alums and say, 'You tell us all the time what this place did for you. Now write a letter to the governor. Tell your elected officials.'
"We need to have more swagger," he adds. "We need to be prouder and crow a little bit more about who we are and what we do — because we have a lot to crow about."