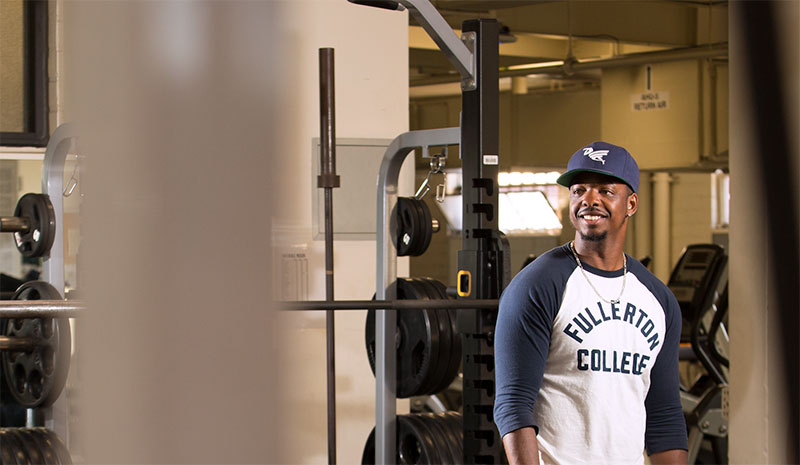 As a Cal State Fullerton athlete, Laron Brown soared more than 7 feet in the high jump. But it was the Guardian Scholars Program that kept the 2009 Big West Conference high jump champion grounded.
"Guardian Scholars is my backbone; it's like a family," Brown stated a decade ago about the university's program for former foster youth. The program's  financial, academic and social support helped him reach his goal of earning a college degree.
Nearly a decade later, Brown '10 (B.A. communications-entertainment studies) is a physical education instructor and track and field coach at Fullerton College. He also coaches at Servite High School in Anaheim and owns a training company for athletes.
"Guardian Scholars prepared me for my career and life by instilling in me strong morals and values that have guided me through success — and through adversity," shares Brown, who is nearing completion of his master's degree in physical education at Azusa Pacific University.
This year marks the 20th anniversary of the first-of-its-kind program in California that has helped scores of emancipated foster youth like Brown earn a college degree.
Launched in 1998, the program, funded through donor and community support, offers a range of support services to former foster youth. To date, 173 Guardian Scholars have earned their bachelor's degrees, and many have pursued advanced degrees in disciplines such as social work, counseling, psychology and education, with the goal of realizing independence and self-sufficiency.
Due to the scope of services offered, Guardian Scholars boasts a 95 percent retention rate and a 76 percent graduation rate, notes Yajayra Tovar, assistant director of the Center for Scholars. This year, 13 Guardian Scholars earned their CSUF degree, and 14 new scholarship students are entering the program in the fall.
Guardian Scholars was established in collaboration with Orangewood Children's Foundation, with generous support from alumnus Ron Davis '69 (B.A. business administration), chairman of Davis Capital and retired chairman of The Perrier Group of America. The program provides scholarships, on-campus housing, mentoring and counseling, and workshops on topics such as life skills, as well as other assistance. Each year, between 45 and 50 students participate on a full scholarship.
In 2017, the nationally recognized program expanded its services to 49 current and former foster youth at CSUF, offering them access to many support services, except a full scholarship. The Foster Friendly Ally program also was created, in which 100 faculty and staff "allies" serve as mentors and advocates to Guardian Scholars and prospective students.
An anniversary celebration is planned for the fall to commemorate the program's two-decade legacy of changing lives and supporting former foster youth in their pursuit of higher education.