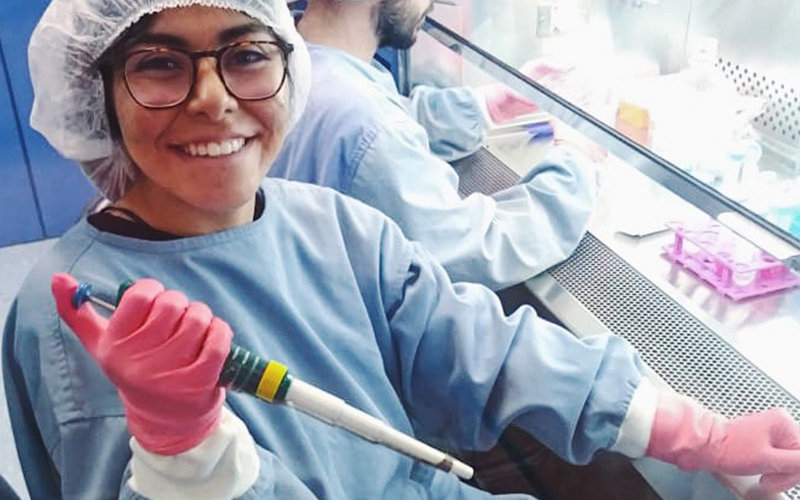 Undergraduate researchers Heba Hasan and Marlene Hernandez both have their sights on medical school and becoming physicians.
To learn about health disparities from a global health perspective and gain research experience to ready for the rigors of a medical career, Hasan studied the risks and risk perceptions of knee osteoarthritis among Thai elderly this summer at Chiang Mai University's Department of Community Medicine.
Hernandez spent her summer working on cancer research at the Institute for Biomedical Research on Retrovirus and AIDS at the University of Buenos Aires School of Medicine in Argentina. Her research focused on a protein called clusterin and whether its function differs between cancer cells and healthy cells.
Both are among the 10 university students, including seven from CSUF, who are spending 10 weeks conducting research in Argentina, the United Kingdom, Thailand and Canada through CSUF's Minority Health and Health Disparities International Research Training Program, known as MHIRT, funded by the National Institute on Minority Health and Health Disparities, part of the National Institutes of Health.
Marcelo Tolmasky, professor of biological science and award-winning antibiotic-resistant researcher, has been leading the research training program since 2006 and has secured more than $3 million in funding. Scholars from CSUF, California State University campuses and other universities across the country are selected and exposed to minority and international health problems. They collaborate on research projects with foreign research advisers to address health disparities from a global health perspective, Tolmasky said.
Hasan, a health science major who plans to graduate in the spring, explained that the research she conducted is the first study on knee osteoarthritis among elderly to be done in a rural area in northern Thailand.
"It will provide a basis and a foundation of understanding for those who want to know about health conditions of the elderly in that area," said Hasan, whose late grandmother suffered from the condition. "But osteoarthritis is a chronic condition that is one of the most prevalent health conditions throughout the world, and the study can be used to gauge an understanding of osteoarthritis among elderly in many other parts of the world as well."
For Hernandez, who earned her bachelor's degree in biological science-cell and developmental biology in May, studying how cancer works will help her in treating future patients.
"As a physician, I want to have a direct impact in the lives of patients, but I also want to understand the importance of research and lab work in helping patients," said Hernandez, who is applying to medical schools. "Having the opportunity to do clinical research and learn the different applications in cancer research is rewarding."
Both student researchers attained a plethora of experience and skills, including what it's like to experience different cultures and health disparities in another country.
"I've had the opportunity to utilize concepts I've learned throughout my degree coursework and apply it in a 'real-world' setting," Hasan said. "From start to finish, this was a hands-on experience where I challenged myself to explore and refine my work, and produce a competitive and viable research paper. I also applied statistical skills by creating and analyzing data sets on statistical software to write a research paper with concrete evidence."
By studying in Argentina, Hernandez added that she gained more confidence in her abilities as a researcher and realized that "science has no borders."
"The scientific community is not just within our institution, state or country, but it's international. We become a part of that international community, and together, work towards advancing science."