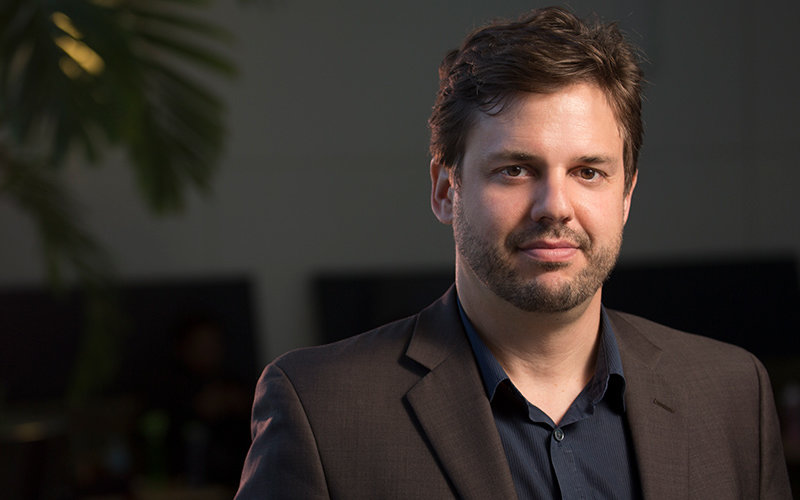 Cal State Fullerton geography major Gemayel Goxcon had never been out of the country until he studied abroad in Puerto Rico  as an undergraduate.
The out-of-classroom experience took him beyond his comfort zone and opened his eyes to see the world. Goxcon participated in a community service-learning project that sparked his desire to continue to help others; he renewed his appreciation and pride for his cultural and linguistic identities; and set higher education and career goals, including earning a master's degree — and a doctorate.
"Participating in the Puerto Rico International Education Program was a life-changing experience," said the alumnus, who graduated in 2017 with a bachelor's degree in geography and is now a second-year graduate student at CSUF.
For Julián Jefferies, associate professor of literacy and reading education, this is the student outcome he is most proud of as coordinator and instructor of the Puerto Rico International Education Program and Guadalajara Transnational Migration Program.
The study abroad collaborations introduce first-generation college students to experiential learning experiences in a global setting. Jefferies goals are to connect Latino students with their first language, history and culture, as well as foster the possibilities of advanced degrees and careers.
For his work to mentor students like Goxcon and scores of others to complete their degrees, Jefferies is a recipient of the California State University's inaugural Faculty Innovation and Leadership Award for his commitment to student success. The first-ever systemwide award recognizes faculty who are implementing innovative practices that significantly improve learning and course outcomes.
Jefferies, a Fulbright García-Robles Scholar, has created a learning community that includes novel service-learning study abroad programs, courses such as "Literacy Education for Social Change," community-based research and partnering with CSUF's Career Center.
"With the mentorship of Dr. Jefferies, the study abroad program staff, and my professors, I wouldn't be where I am today — in graduate school," said Goxcon, the first in his family to pursue a master's degree. He also has been selected as a 2018-19 Sally Casanova Scholar in the CSU's California Pre-Doctoral program to prepare for doctoral studies.
"I appreciated the ingenuity of the study abroad program for not only for showing me how to navigate higher education effectively, but also for fostering my cultural, professional and emotional growth."
Jefferies, who joined the university in 2011 and earned his doctorate in curriculum and instruction from Boston College, is a first-generation college student who left his family in Argentina to pursue higher education in the United States. He knows firsthand of the challenges, sacrifices and plight of being undocumented in a new country — and is not only passionate, but also determined to do whatever he can for students to help them learn and thrive in higher education.
"We've created a purposeful partnership with the Career Center and faculty members to best serve first-generation Latino students," said Jefferies, who became a U.S. citizen in 2013. "I haven't done it alone. I've had a lot of support from a lot of people. One of things I'm most proud of is helping these students navigate college and earn a degree."